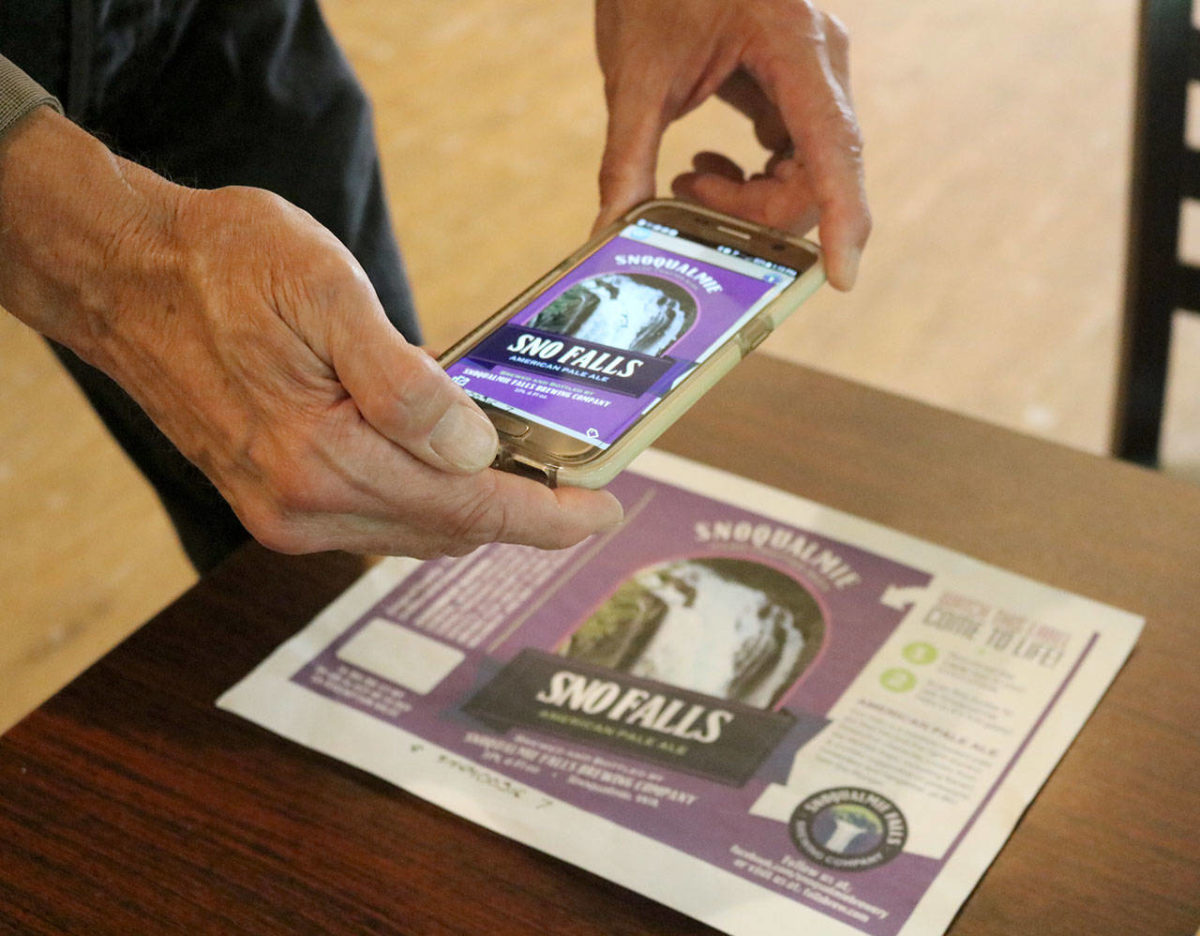 As part of its 20th anniversary, the Snoqualmie Brewery and Taproom is introducing a brand new pale ale, with a high-tech label. The Sno Falls American Pale Ale's unique label is equipped to display an augmented-reality animation through the free smartphone app Layar.
Augmented reality is the projection of a computer generated object that can be seen in the real world through a camera or screen.
The beer label has simple instructions on how to download the Layar smartphone app and use it to view the animation. Just point your smartphone camera at the label while the app is open and a special animated scene of the Snoqualmie Falls will play on the bottle.
Dave Eiffert, general manager and co-owner of the brewery, explained that the new beer label was part of an effort to keep evolving and creating new flavors and marketing approaches.
Eiffert was not familiar with the concept of augmented reality at first, but was introduced to it in March by Josh Tuininga, the owner of the local art design company the brewery works with to produce labels. Tuininga showed Eiffert an example of AR animations in an issue of the Art Institute of Chicago magazine which convinced him to purse the idea of using the technology on their beer labels.
The building the brewery is located in, on Falls Avenue SE next to Sandy Cove Park, was once a Dairy Queen distributor, but once that business moved out, the co-owners took their chance and started their own business.
They began just as a brewery, with some retail sales on weekends, but they opened the taproom in 2007, with seating for 44 customers. In 2011, the brewery expanded the taproom to a total of 180 seats.
"We started out as a production brewery and we did a little bit of retail sales and tasting on weekends," he said. "When somebody got the bug to open up a taproom, I didn't think it was going to work. There were various other places to drink, and I didn't think the community would value this place and clearly, they very much value this place."