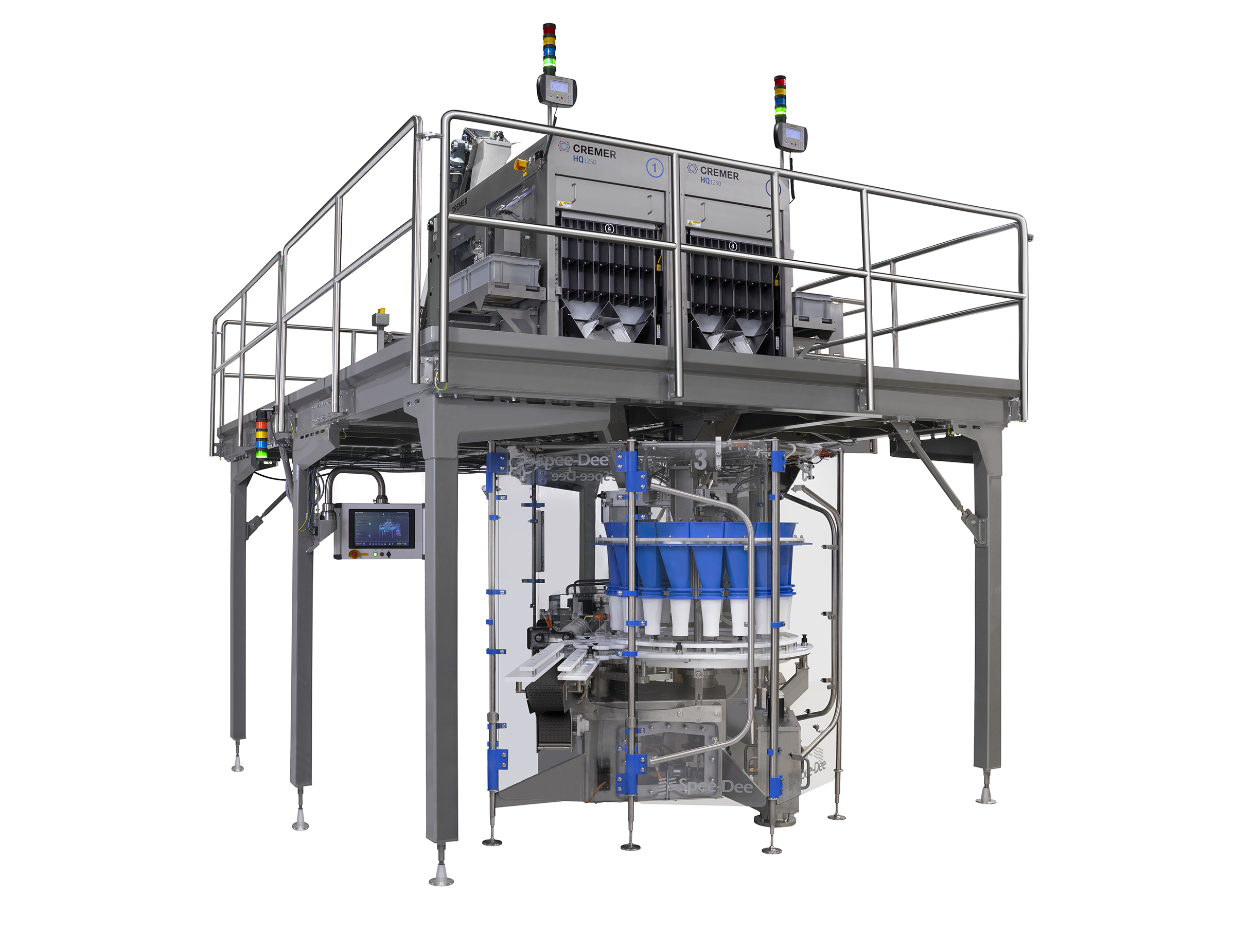 Fully servo-driven HQS 1250 Counting & Dispensing Machine provides 100% accuracy for bottling nutraceutical & confectionary gummies.
Cremer, a leading supplier of product counting machines in the U.S. for a wide array of applications, has introduced its HQS 1250 Counting & Dispensing Machine, designed specifically for gummy applications in the nutraceutical and confectionary sectors. Drawing on over 40 years of experience in the pharmaceutical market, Cremer developed the long-awaited gummy solution in partnership with filler manufacturer Spee-Dee. 
The new 12-lane counter can precisely apportion gummies of all shapes and sizes to a downstream bottler or single belt setup. With an average output of 150 bottles per minute on a 60-count gummy product, the HQS 1250 is ideal for a wide variety of gummies in typical sanded or sugared formulations. 
Market reports indicate the nutraceutical gummies market has experienced a compounded growth rate (CGR) of 12.5% between 2016-2020, and a forecasted 15.0% CGR is expected over the next decade. This makes the Cremer/Spee-Dee gummy solution a timely one. 
Importantly, the HQS 1250 effectively alleviates two common obstacles that gummy manufacturers and co-packers routinely face: accurate counting and filling at medium-to-high speeds. Traditional multi-head scales are not 100% accurate when filling by weight, and gummies tend to clog when filled into a small bottleneck opening. The HQS 1250 seamlessly streams gummies without blocking in the bottle neck while also ensuring accurate counts at high speeds.
Counting food and various other products by the piece is regarded as the most efficient, cost-effective alternative to modern weighing and pick-and-place systems, as counting accuracy is not affected by small weight variations between individual pieces. Optical counting – as opposed to weight-centric quality control – guarantees that the net contents in terms of count is 100 percent accurate for both wholesale and retail packages. Optical counting also prevents product loss, avoids product wastage, and maximizes production efficiency.
Cremer's HQS 1250 Counting & Dispensing Machine also brings benefits that distinguish it from competing counting solutions. For instance, its seamless integration with Spee-Dee allows for high-speed counting and filling with no clogs or jams, and offers industry-leading speed and accuracy and per-product customization. In addition, the HQS 1250 is delivered pre-assembled with all wires quick-locked for faster installation, and allows for quick, toolless changeover. The HQS 1250 counter is compact in size and, to preserve precious production floorspace, can be placed directly atop a packaging machine for bottle filling applications. 
"At a time when the gummy market is rapidly growing, we are thrilled to have partnered with Spee-Dee on the new HQS 1250 counter to bring a reliable, high-speed counting and dispensing solution to gummy manufacturers," states Brian Pomponio, Business Development Manager of Cremer North America. "Our innovative solution ensures consistent, accurate counts and reduces costly product loss in what is typically a very challenging application due to the sticky nature of gummy products."
 
About Cremer
Since 1949, Cremer is the leading global supplier of counting machines and packaging solutions for the pharmaceutical, food, consumer goods and agricultural industries. As part of the Uhlmann Group, the Netherlands-based company is known worldwide for its dedicated focus on quality control. 
Cremer's highly technical and innovative machinery provides unsurpassed speed and precision, ensuring companies can count and package their products in a guaranteed accurate, fast, and profitable way. Cremer's commitment to customized equipment solutions has led to a customer base ranging from small family-operated businesses to multinational corporations. For more information, visit www.cremer.com. 
 
Cremer
Brian Pomponio
b.pomponio@cremer.com
(973) 214-7660