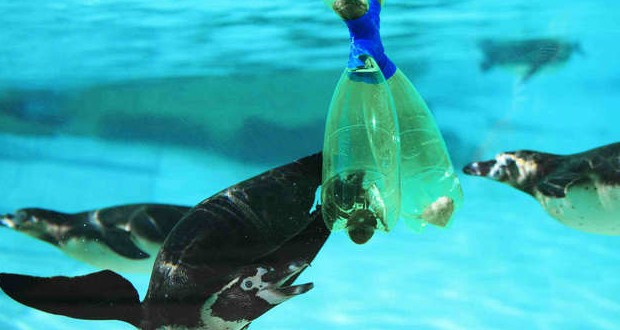 Ajit Pandey
The measure is part of a new campaign 'to protect the world's oceans from the devastating impacts of plastic pollution'.Keepers used the last of ZSL London Zoo's recycled bottles to create a floating feeding puzzle for the Humboldt penguins to play with.
The Zoological Society of London (ZSL) will be announced today as a lead partner in #OneLess, a new campaign that aims to make London the first major global capital city to completely eliminate single-use plastic water bottles.With ZSL London Zoo visitors alone reportedly disposing of some 155,000 plastic bottles of water in 2015, ZSL has made the switch to what it describes as more ocean-friendly packaging options, with a new range of refillable plastic bottles available alongside fully-recyclable paperboard drink cartons.
An art installation in the Zoo's Aquarium paints a vivid picture of the effect of plastic on marine life, and visitors will also be able to discover more about plastic pollution and the steps they can take to reduce their own impacts at the twice-daily Penguin Beach Live! shows.UK consumers alone get through 13 billion disposable plastic bottles per year with many ending up in landfill.
ZSL London Zoo, as part of the #OneLess campaigns, wants to see not only Zoo visitors, but all Londoners ditching single-use plastic water bottles, and instead drinking from refillable bottles.
ZSL's head of commercial Kathryn England said: "We welcome more than one million visitors a year to ZSL London Zoo, and that's one million people we can inspire to help protect the world's oceans.
"By removing single-use plastic water bottles from our shelves, we're not only reducing our own impact on the oceans, but opening our visitors' eyes to the problem and showing them how easy it can be to adopt more sustainable alternatives."
ZSL's head of marine and freshwater conservation, Dr Heather Koldewey, said: "On a recent field trip to the Chagos Archipelago Marine Reserve, one of the world's most remote island chains, I was deeply shocked to see the amount of plastic water bottles washing up on the beaches from all around the world, showing the impact of our disposable society in even the most pristine places.
"We need to make a change and it can start by simply using a refillable water bottle. Through projects like the #OneLess campaign and our successful Project Ocean partnership with Selfridges, ZSL is helping to reduce the amount of ocean-bound plastic and protect the biodiversity of life beneath the waves."