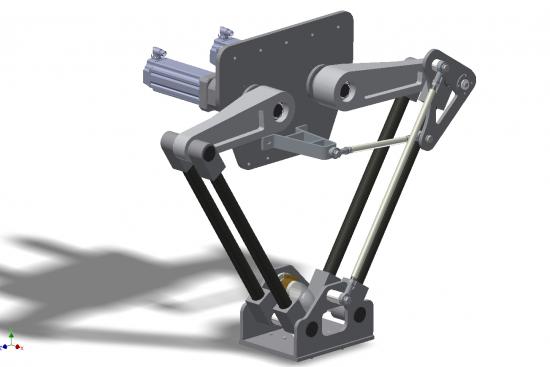 This new development is preceded by the need to improve one of its current pick and place systems, cataloged as Delta D-300.
One of its main advantages over its predecessor is height. Which has suffered a decrease in the work area and movement of the Pick and place, allowing a large number of clients with height limitations in their facilities, to automate their nesting process without the need for a free work space of 3.5 meters as required by the D-300 model. This new system only needs 2.8 meters from where the base of the bench rests upwards, so it can be installed in much smaller spaces .
This system is powered by two servo reducers responsible for supplying the movement to the two independent duralumin arms that make up the robot. Which, hold the base where the head and suction cups are placed, and through a suction system by turbine or Venturi, the product fits inside a box .
Regarding the robot, the four arms held by the aluminum ball joints have been made of carbon fiber , incorporating this type of material due to its great resistance to traction, compression and light weight. The dimensioning of the arms has been designed to be able to carry out the work path with a head weight, suction cups and product to be fitted of 100kg at a maximum cadence of 18 cycles / minute.
Regarding the maintenance of the machine, this new packer with two-axis robot also includes an improvement, since being composed of a smaller number of pieces (the belts, guides and guides of movement have been eliminated), a reduction is achieved of the time in the maintenance of the parts susceptible to wear, a lower cost of production stoppages and a decrease in the cost of manufacturing the machine itself.