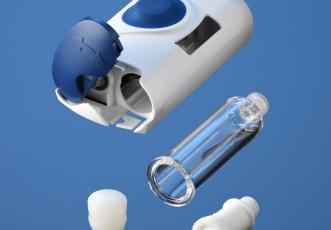 Ajit Pandey
West Pharmaceutical Services, Inc.'s SmartDose electronic patch injector system technology includes a Daikyo Crystal Zenith® polymer cartridge, a plunger with Flurotec® barrier film, a telescoping plunger rod, and an electronic drive and control system. It has been designed and tested to ensure patient-friendly delivery of high volumes of medication over an extended period of time, and is currently available to support customer clinical studies.
Many injectable drugs currently on the market, and many in development, require repeated dosing and are intended for self-administration. To help patients who must self-dose, medical device developers are designing systems that are easy to use and that encourage patients to comply with a dosing regimen.
Auto-injector systems are a proven solution for many of these products.
However, a reliable self-administration system has not been available for high-volume subcutaneous delivery of viscous or sensitive drug products that may require an extended injection time. The SmartDose patch injector answers these market needs and may help reduce dosing frequency and could enhance patient comfort and adherence to a treatment regimen.
The SmartDose patch injector system technology is a single-use system designed to deliver higher dose volumes by injecting the drug slowly over a period of time. The system can be preprogrammed and controlled to provide the optimal dosing rate.
West acquired the technology in 2010 from a company based in Israel. West continues to scale-up manufacturing and has created a center of excellence in Israel.
The SmartDose system technology is lightweight and easy to use. The drug company will assemble the system and fill the cartridge with the appropriate drug product using established syringe filling technologies, or will use a contract filler. West continues to work with contract filling partners to enhance this capability.
The SmartDose system is delivered to the patient in a single package. The patient inserts the cartridge into the SmartDose injector and adheres the system to the body, usually on the abdomen. A push of a button inserts the needle and starts the injection, which is delivered over time based on programming instructions entered by the drug company. Visible and audible indicators confirm the operation of the system. The needle is hidden from view until the injection begins. An electric motor drives a telescoping plunger rod, delivering the dose. When the drug is delivered audible indicators tell the patient that the dose has been completed. The patient removes the system from the body and disposes of it. The needle is automatically shielded after use.