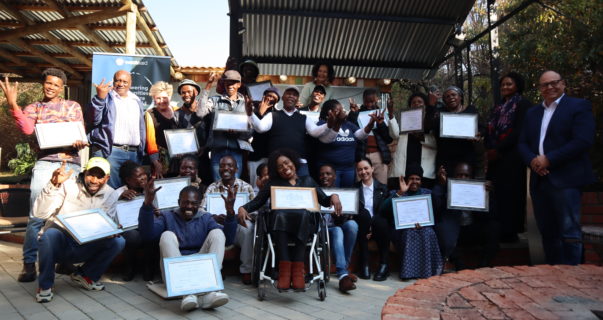 Grania Jain
The initiative, organised by international non-governmental organisation (NGO) WasteAid and supported by sustainable packaging company Huhtamaki, aimed to give 18 waste collectors, in the Diepsloot community, north-east of Johannesburg, the skills, mentoring, and financial support they needed to improve their income. The programme culminated in a Dragon's Den-style pitch day with the participants attempting to convince judges to help them turn their business ideas into a reality. But, after much deliberation, judges decided everyone was deserving of support.
WasteAid's 16-week Huhtamaki Wastepreneur Challenge was developed with training partner The Wot-If? Trust which has been working with young people in Diepsloot for several years. The programme provided the wastepreneurs with business, financial, and waste stream training as well as mentoring to help them unlock their entrepreneurial potential and prepare for the pitch day.
The event at The Shack @ Glenda's conference venue in Midrand, saw participants pitch their business idea to a panel of independent judges in a bid to secure funding.
WasteAid's Director of Programmes, Michelle Wilson said: "WasteAid is committed to working with communities to bring the right people together to achieve a lasting positive impact on the environment and wellbeing of those living there. There's nothing more rewarding than seeing waste collectors, who battle every day for the recognition and respect that they deserve, transform into wastepreneurs."
"The pitch day is a significant moment in our training programme. It's so rewarding to see how far the wastepreneurs have come. Through a blend of personal coaching and practical training they grow in confidence and the gem of an idea they start the course with flourishes, and they can map out the steps they need to take to make their idea a reality and improve their earning potential. The judges were so impressed by everyone's pitches that they decided to invest in all 18 participant's businesses."
The business ideas presented by the wastepreneurs ranged from the need for equipment like trolleys to transport waste and cages and fencing to secure the aggregation of waste, as well as operational set-up support like compliance and governance for a satellite buy-back centre.
One of the wastepreneurs will be expanding on his idea of a circular economy business by fixing furniture using his carpentry skills, alongside mending the dumped clothing that he collects and sells.
Three other participants have formed a group to have a soup kitchen that will trade waste for soup, and so they will collect more waste to sell which will feed into another newly formed group of wastepreneurs close by who are establishing a collection centre.
To enable all the wastepreneurs to be supported, the judges agreed to take advantage of 'economies of scale' and buy the equipment and items the participants needed to achieve a better price.
Huhtamaki has been very supportive of WasteAid's programme. Members of their South African team hosted a mentoring day before the pitch day and are arranging first aid training for the wastepreneurs as well as providing personal protection equipment (PPE).
Juan Mulder, Huhtamaki South Africa's Sustainability Specialist was joined on the judging panel for the pitch day by colleagues Shane van der Nest, General Manager of Huhtamaki SA and Melissa Rossouw, a Business Analyst at the company, and entrepreneurial mentors and business practitioners Ashleigh Dlamini and Aaron Mathe.
Mr Mathe said: "We were extremely impressed by everyone's pitches. It was obvious that they take their business ideas very seriously and were committed to making the most of the opportunities available to them. It's clear that they want to improve their current situation. At the end of the day, all of their business ideas will benefit the whole community, so we decided that everyone was deserving of financial support".
WasteAid will continue to mentor the wastepreneurs through the implementation phase of their businesses and hopes to expand its support to more waste collectors as part of a further phase of the programme next year.