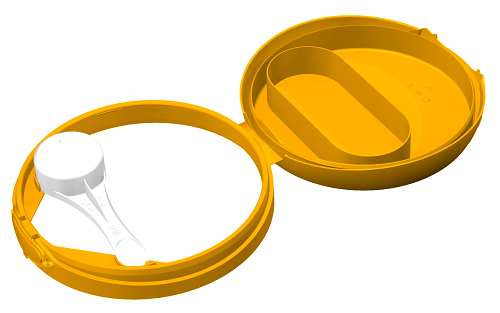 Press Packagingconnections
United Caps, a manufacturer of caps and closures, developed 127 Safe-TE, which is designed to meet the needs of the Asian market. The new product offers baby food safety and convenience with security features, alongside a premium gold colour offering.
Benoit Henckes, CEO of United Caps, said, "With 127 Safe-TE, we have taken our popular PROTECSCOOP infant nutrition closure family to a new level. 127 Safe-TE was engineered specifically for Asia, where there are elevated concerns about product purity, a need for effective anti-counterfeiting solutions and a demand for a more premium look.
"It contains the PROTECSCOOP features, including ease of preparation, scoop hygiene and more, while adding a tamper-evident feature. At the same time, it only requires very minor changes to existing capping/filling lines, important for infant nutrition manufacturers, for whom extensive changes can be very expensive and time consuming."
127 Safe-TE will be featured in the United Caps booth, along with a broad range of caps and closures for other product types, at the Dairy Asia Pacific Summit 2019, which will be held from 21-22 November 2019 at One Farrer Hotel, Singapore.
Safe-TE: The details
The new 127 Safe-TE line takes United Caps offerings for infant nutrition products to the next level, addressing the need in the Asian market for increased tamper evidence (TE) indicators, and a more premium look. Like the PROTECSCOOP, 127 Safe-TE is a flip-top hinged closure whose design allows easy preparation of infant feeding bottles, for left- or right-handed individuals. 127 Safe-TE's tamper-evident band presents visible evidence of any tampering with its DropDown lock technology that makes it obvious if the product has been opened. With the new FLEXBAND technology, it is impossible for a malevolent actor to remove the closure, tamper with the contents, and return the closure to its original condition. United Caps' anti-counterfeiting solutions add greater levels of reassurance. 127 Safe-TE's contamination-free foil-sealed chamber protects the included scoop until use, and an integrated hook keeps the scoop handy for further use. 127 Safe-TE is offered in the standard blue, green and white United Caps colours plus a premium gold, which offers the overall look of higher quality and standout shelf appearance that is a growing requirement in Asian markets. Advanced in-mould labelling options further enhance opportunities for brands to differentiate themselves with a large area for IML or engraving.
For brands implementing 127 Safe-TE, there are minor or no changes required to existing capping/filling lines. 127 Safe-TE is available in 127mm, with a 99mm solution in the pipeline.
"In addition to the Dairy Summit, an important event for us," added Henckes, "We will be showing this innovative closure, as well as a broad range of other caps and closures, at the Shanghai World of Packaging (SWOP), taking place at the Shanghai New International Expo Centre (SNIEC), Pudong New Area of Shanghai, November 25 to November 28, in Booth N2A44 in the German Pavilion. We are looking forward to hearing feedback from attendees at both shows about our latest innovation."
Production of 127 Safe-TE for the Asian market will begin in the company's brand-new factory in Kulim, Malaysia, in September 2020.