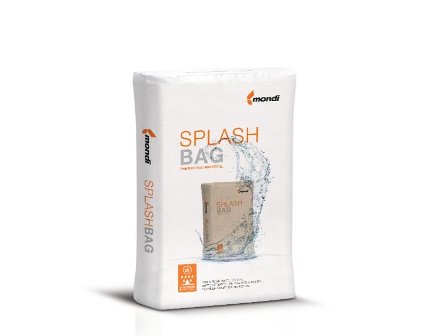 Press Packagingconnections
Based on Mondi`s Advantage Protect sack kraft paper – a grade that offers both a water-repellent surface and high wet tensile strength – the bag maintains high strength even in wet environments. Thanks to its bespoke benefits, within the last year SPLASHBAG has quickly gained global recognition – from Azerbaijan and Bulgaria to France and La Réunion. The key to SPLASHBAG's success lies in its enhanced sack kraft paper properties – absorbing less moisture than conventional paper bags and maintaining both integrity and product quality.
As a result, this fully recyclable water- repellent solution offers increased wet strength while matching the filling speed of standard paper bags. Even after a few hours of direct exposure to rain, or moisture ingress, it can still be handled and stored without difficulty. This way it significantly reduces bag breakage rates, leading to genuine cost savings through reduced waste, lower vehicle and site clean-up costs and time savings for logistics and site managers.
The enhanced properties of the SPLASHBAG's paper are a result of close collaboration with our integrated supplier – Mondi Kraft Paper – and are an example of how Mondi constantly improves product quality to meet customers' needs. Another benefit is the reliability Mondi delivers every day by thoroughly testing its solutions. Both through engineers at its dedicated Bag Application Centre, as well as by customers and suppliers, Mondi makes sure the products withstand the most rigorous conditions. This way filling processes can be optimized to ensure efficiency and increased productivity.
Claudio Fedalto, Sales & Marketing Director, Mondi Industrial Bags, commented: "With a broad range of industrial bags optimized for high-speed filling lines and multiple closing options, Mondi can provide its dynamic customers with the right tools to ensure global market success. We are currently working on further improvements that will extend the water resistance of SPASHBAG and will exceed the markets' expectations in terms of the bags' strength and shelf-appeal. Stay tuned for more details how our World Tour progresses."
For more information, visit: