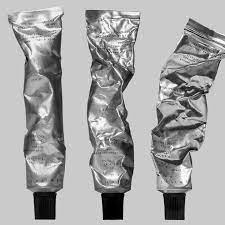 Most of the packaging lining our daily lives has a sell-by date. After a certain amount of squeezing, scraping, pouring, and emptying, even the most well-designed toothpaste tubes and pantry products start to look far from advertised. Designer Han Gao's recent solution, is to embrace this degradation. Working with Shanghai-based independent fragrance studio Démi Bai, the creative director has recently delivered its rebrand, plus packaging for a new line of fragranced hand cream that embeds the process of using the product into its design story.
The hand cream colour palette has been chosen from a range of raw colours from natural, but "abrasive" materials, Han tells It's Nice That, aligning with the "bitter" and "mysterious" aesthetics of Démi Bai. The use of cold greys and grainy metallics suggests a harshness. But the cleverness of this approach is best demonstrated when the packaging is in use – as the tube is scrunched up, its angular form resembles silver quarts or molten metal.
Démi Bai is built on a small, inventive team creating innovative fragrances; its hand cream line includes Blackberry and Coffee, Bergamot and Saffron, and Chamaecyparis and Obtusa. Looking for an "experimental" but "calm, sophisticated" new design direction, Han, with his peaceful, pared-back approach, seems an obvious choice. But he is also known for nuanced layouts – and a distinct typographic approach.