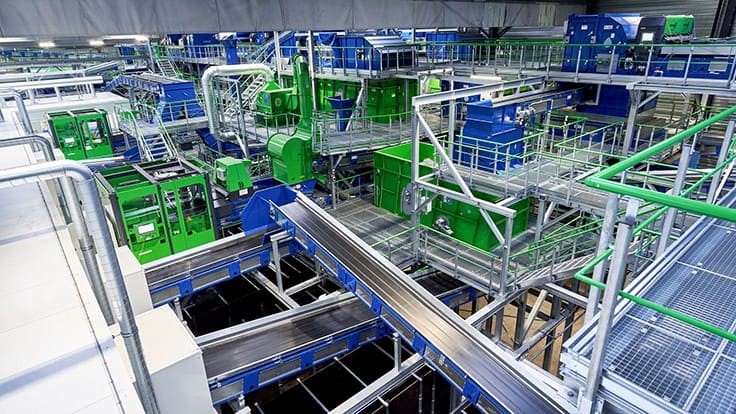 Germany-based PreZero International has announced that it has started operations at its new sorting plant for light packaging in Evergem, Belgium, following a one-year construction period. The new automated plant is expected to separate about 80,000 metric tons of material collected from around Brussels and in Belgium's Flanders' region.
PreZero invested about 46 million euros (or about $56 million) into the site, which will create about 100 jobs. According to a news release from Fost Plus, a nonprofit organization responsible for sorting and collecting household packaging in Belgium, the plant's separation procedures combine new technology to ensure it can meet the country's "stringent sorting quotas." In addition to wind sifters, overbelt magnets and ballistic separators, the Belgium-based plant will feature 26 near-infrared (NIR) devices to sort lightweight packaging into 14 fractions, including plastics polyethylene (PE), polypropylene (PP), polystyrene (PS) and polyethylene terephthalate (PET). Fost Plus reports that special robots in the plant will ensure that drink cartons, PET trays and high-density polyethylene (HDPE) packaging can also be separated in subsequent sorting of material.
"The start of operations at the sorting facility for lightweight packaging in Evergem also strengthens our network of high-performance plants on a European level," says Stephan Garvs, managing director of PreZero Germany. "Against the background of the EU Commission Action Plan with minimum quotas for the use of recycled materials, it means we are ideally positioned to face the future challenges of a sustainable circular economy."
Claudy Lejeune, who is in charge of expansion and business development at PreZero Belgium, says the technical equipment featured at the plant will help it meet sustainability requirements. "The sorted fractions are of a quality, which the processing industry has been demanding for some time, for use in production cycles. I am confident that we can make a significant contribution to the acceptance of secondary raw materials."
Christian Kampmann, head of PreZero Recycling Germany, says the new facility plays "an important role" within the overall strategy of PreZero. "The start of operations is a further important step on our way to becoming a company that implements the conservation of finite resources along the entire value creation chain."
Mik Van Gaever, chief operating officer of Fost Plus, says he is hopeful that the new PreZero sorting facility's technology will enable Belgium to produce "high-quality  material for the European recycling market."
PreZero has also announced it is releasing OutNature as a new, sustainable fiber and paper packaging solution that incorporates silphium plant components. According to a news release from PreZero, the OutNature product will be introduced in the Fruit & Vegetable department in Kaufland stores. OutNature uses a biothermal method to separate plant fibers before bioenergy generation and enables its use as a new raw material produced in Germany. The company says silphium plant products can also be tested as an alternative to conventional plastic packaging in the future.
"The new cup plant packaging strengthens the identity of our 'K-Bio' own-brand," says Jürgen Schartschinski, head of purchasing Fruit & Vegetable at Kaufland, of the new OutNature packaging. He says vegetables, including cress, white and brown mushrooms and tomatoes from the Kaufland K-Bio own brand, will be the first to feature PreZero's OutNature packaging.
PreZero reports that its Silphie-paper can be used in a variety of paper applications with a specific focus on packaging applications that come into direct contact with food. Dietmar Böhm, chief operating officer of PreZero, adds, "The launch of our silphium plant packaging at Kaufland is an outstanding starting point for OutNature's market entry and will enable us to impress other customers with our innovative packaging solutions in future. With OutNature, we are unlocking a completely new source of raw materials and we will continue to forge new paths."
According to PreZero, OutNature received the German Packaging Award in the "New Material" category at the end of 2020 for the idea of manufacturing sustainable packaging from silphium plant fibers. At the start of 2021, the product received the World Packaging Organisation's WorldStar Award in the "Packaging Materials & Components" category.