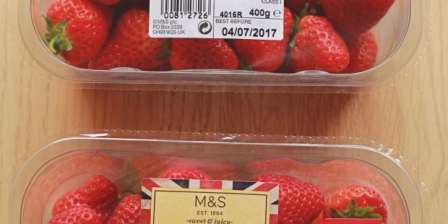 Blacketyside Farm installed a Packaging Automation Revolution fully electric high speed tray sealer machine which is capable of sealing up to 200 packs per minute.
Blacketyside Farm is run by the Todd Family, who have been farming in Fife, Scotland for over 20 years and supply the UK's major supermarkets with strawberries and raspberries.
Andrew Todd from Blacketyside Farm commented…"We were looking for a new heat sealer and PA's Revolution was the best option. The machine is fast, efficient, easy to use and provides more output than we had before.  PA's service team are very supportive and are available when we need them over the phone and in person."
One of the challenges for PA was accommodating different printed film designs on just one size of punnet sealing tool. The team at PA were able to programme different recipes for each film design which means there are no mechanical adjustments needed for film changeovers leading to a reduction in cost and downtime for Blacketyside Farm. The operators simply select the relevant recipe from the HMI menu when switching between products.
Blacketyside Farm have also reduced unplanned downtime by up to 90% thanks to PA's unique pod tooling system. The ingenious top tool comprises of a host plate and a series of single impression removable cartridges to enable continued operation during repairs, routine maintenance and breakdowns.
Tool warm ups are 36% quicker as a result of using silicone coated heater mats. The quick release cutting blades on the tools allow for replacements to be changed in seconds and spare cartridges can be supplied to enable full capacity operation at all times at minimal business investment costs.
The Revolution HMI and interface is easy to operate with user-friendly controls and a display that provides clear reporting to the operator and an inbuilt manual function. Different languages are also available through a simple selection for various operator nationalities.
PA have service engineers throughout the UK on call 24/7, the Revolution is fitted with Remote Diagnosis which allows the PA service team to dial in to the machine to diagnose issues over the phone and support Blacketyside Farm at any given time.