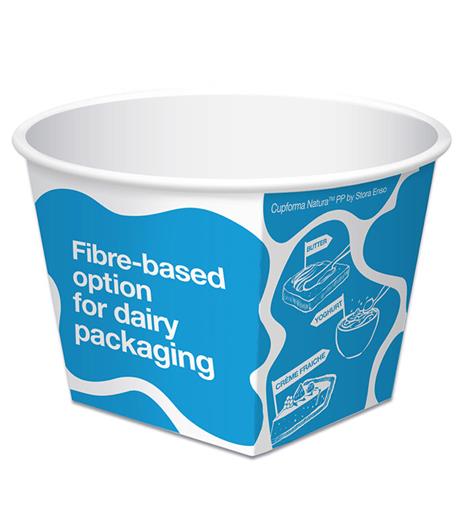 Madhu Sudan Singh Chauhan
The Swedish packaging manufacturer Arta Plast has introduced an attractive new paperboard cup for packaging dairy products and other chilled foods. The package is called Fiber Cup and it is made of paperboard Cupforma NaturaTM by Stora Enso. To ensure good protection and freshness of products such as crème fraiche, butter or chilled food, the board is coated with a thin polymer layer (PP) on both sides. Thanks to its barrier properties, the material can replace non-renewable food packaging materials and thereby reduce environmental impacts of packaging. The cup is recyclable and its modern shape and excellent printing and design possibilities showcase the brands in the best light.
The development of the new solution was started as a response to the increasing customer demand for an environmentally-friendly alternative to thermoformed polystyrene cups used in food packaging, and it resulted in a new packaging solution suitable for the food product segment, previously completely dominated by plastic packaging. According to Sales Manager Tomas Rosenskold from Stora Enso, supermarket shelves have been full of plastic in this product segment until now, so the new Fiber Cup is a great step towards more sustainable food packaging based on renewable and recyclable materials.