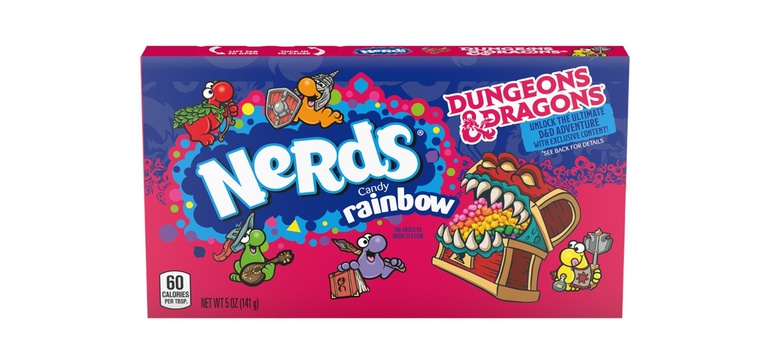 Grania Jain
Starting in September, specially marked versions of Nerds Gummy Clusters and Rainbow Nerds Theater Boxes will come with a receipt that can be uploaded to nerdscandy.com/dnd. On the site, visitors can start an exclusive "Restoring Harmony" campaign that includes a PDF adventure and character sheets based on the Ferrera-owned candy's mascots.
The packaging also promotes a sweepstakes running through the end of the year that offers prizes like a D&D Starter Set and Player's Handbook. The effort shows Nerds deepening its content strategy at a time when interest in tabletop gaming is high.
Nerds is providing consumers with a piece of content-rich storytelling through its collaboration with Wizards of the Coast's Dungeons & Dragons game. D&D, which debuted in the '70s, is a bedrock of nerd culture, providing a clear link to the Ferrera candy's brand name. But gaming has also grown increasingly mainstream, with tabletop offerings seeing an explosion of popularity in recent years.
As part of the tie-up, D&D designed a special campaign for Nerds that features its cartoon mascots. In D&D terms, campaigns are rough outlines of an adventure that a Dungeon Master — the game's chief storyteller and wrangler — can fill in with improvisational help from players who role-play as different characters in a fictional fantasy world.
Each Nerd candy color has been converted into a different D&D archetype, with orange serving as the fighter class, pink as the rogue and purple as the wizard. There are six classes in total that can be unlocked by uploading Nerds receipts, while the "Restoring Harmony" campaign can be completed in under an hour. The story is intended to be family-friendly — though entrants must be 13 years or older — and accessible to D&D newcomers. Thematically, Nerds is emphasizing D&D's focus on teamwork and how bringing different ways of thinking together can make problem-solving easier.
On the marketing end, the candy brand is trying to link a packaging play closer to digital channels. To sign up for the D&D experience, users can enter their email address and personal information, including their full name, address and date of birth, along with a photo of their receipt. That information might prove valuable in informing future marketing efforts, especially as marketers contend with the deprecation of targeting tools like third-party cookies.
For D&D, the promotion may bring on newcomers in the coveted Gen Z age range. The tabletop game has experienced a resurgence in interest after playing a prominent role on hit shows like "Stranger Things." The pandemic has not slowed D&D play, as sales jumped 33% year-on-year to their highest levels ever in 2020 as people sought entertaining ways to stay connected to friends and family.
Other marketers have tried to capitalize on the current tabletop role-playing craze. In 2019, burger chain Wendy's introduced a homegrown take on the concept called "Feast of Legends" in partnership with global entertainment brand Fandom. The game was marketed with the help of Critical Role, a popular role-playing franchise.