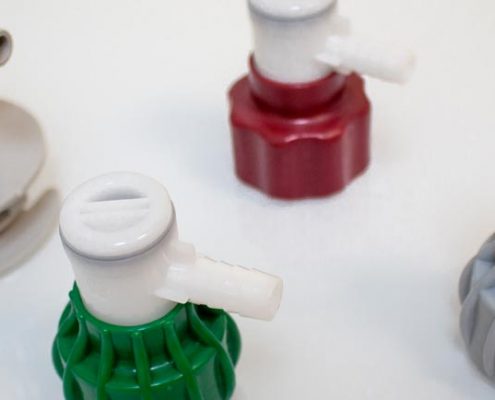 Bhaskar Ch
Certification demonstrates compliance to the widely accepted NSF International sanitation standards for commercial food equipment, components and materials
Richmond, VA – Liqui-Box, a leading innovator of sustainable liquid packaging solutions has earned NSF/ANSI 18 certification for their QCD series connectors from global public health organization NSF International. The Liqui-Box QCD series connectors include the following seven products, QCD Encore®, QCD Encore® Diet, QCD 3G, QCD DP, QCD II, QCD Universal, Left Hand QCD Encore®.
NSF International standards serve as the benchmarks by which all commercial foodservice equipment products are measured. Certification signifies to customers, specifiers and health departments that these products have been reviewed, tested and certified by an independent third-party organization to the industry's leading standards and that they meet all applicable North American regulatory sanitation requirements.
To earn certification to NSF/ANSI 18-Food and Beverage Dispensing Equipment, Liqui-Box's QCD series connectors were subject to a review, an evaluation and, where applicable, testing process to verify the product's compliance as stated in the NSF International standard. Certification by NSF International also included an audit of Liqui-Box's manufacturing facility to verify compliance and that the product is made using Good Manufacturing Practices.
NSF International food equipment standards include requirements for material safety, to ensure the product will not leach harmful chemicals into food; design and construction, to ensure the product is cleanable and is not likely to harbor bacteria; and product performance.
Liqui-Box's QCD series connectors and related sales and marketing materials can now bear the NSF/ANSI sanitation mark and is listed in the ONLINE DATABASE OF NSF INTERNATIONAL CERTIFIED PRODUCTS
"We're dedicated to the highest quality standards for our products, manufacturing and design. Food safety is our priority and we're excited to be recognized by NSF/ANSI with this certification." Greg Gard, Senior Vice President, Research and Development, Liqui-Box.
"We welcome LIQUI-BOX on board and are happy THEY HAVE chosen to certify THEIR QCD SERIES CONNECTORS to the NSF International sanitation standards. We are sure this independent demonstration of the quality of thIS product and its compliance with public health requirements will support the value of LIQUI-BOX'S brand." Sarah krol – Global Managing Director – Food Safety Product Certification.