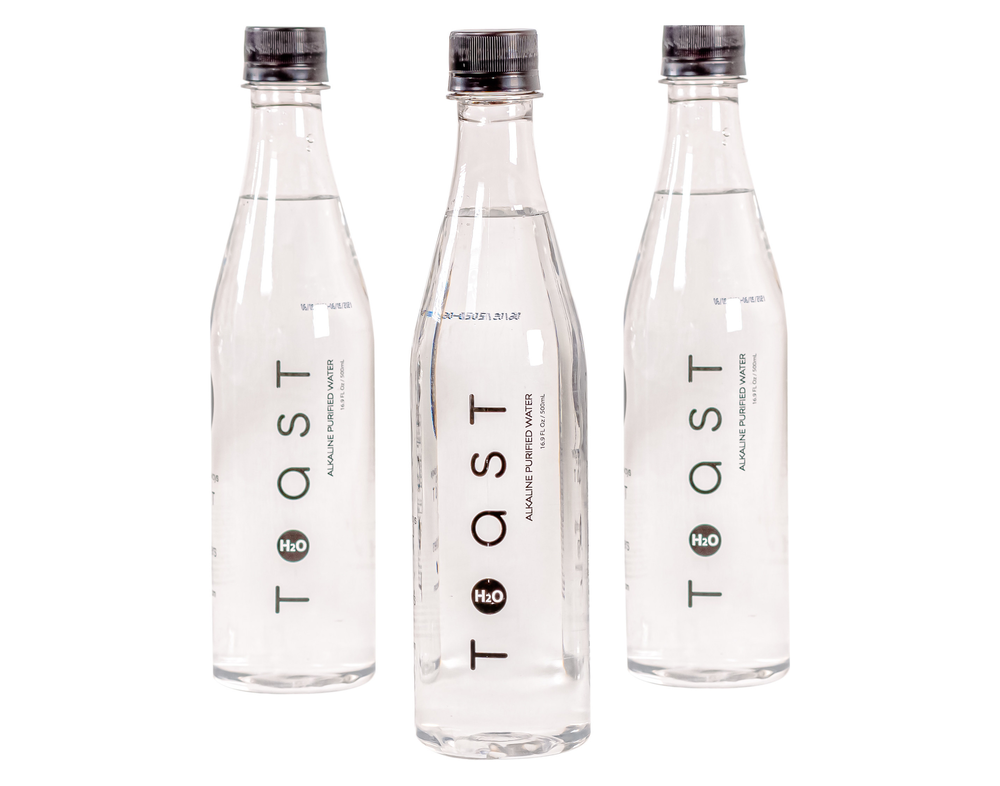 Miami-based spirits conglomerate Toast Distillers, Inc., known for its ultra-premium vodka, is raising a glass of a different sort—new Toast H2O alkaline-purified water in a label-less PET bottle that simplifies recycling. Dubbed "the healthy water," Toast H2O is treated with reverse-osmosis, UV light, ozone, carbon filter, multimedia filter, and microfiltration, and is produced by Toast Distillers' subsidiary, The Miami Distilling Company.
According to Dieuveny "DJ" Jean Louis, founder and CEO of Toast Distillers, Inc., Toast H2O was added to the company's spirits-only portfolio so that it could share its products with many more customers, "even the smallest in the house." He adds, "Water is an essential liquid for life, and today more than ever, the motto of our company supports it: 'TO LIVE, TO LOVE, TO US.'"
The decision to go label-less, using a screen-printing process for decoration instead, was made in an effort to maintain the elegance of the bottle, but more importantly, to facilitate recycling. "Most plastic bottles are made from polyethylene, the easiest plastic to recycle in the industry; most adhesive labels are made from polypropylene. Although the two materials are plastic, they have different recycling processes, which means that in order to recycle a bottle, the label must be removed," says Louis. "Can you imagine how many bottles of water of this type are consumed in the world? Removing the label is usually done manually. Normally this plastic is sent to other countries with a slightly cheaper labor cost but with poor production controls, so guaranteeing the recycling process is complicated.
"We are aware of the situation that exists worldwide with plastic, and we deeply believe that the solution to this problem is to teach customers and develop methods to facilitate recycling processes."
The sleek, 16.9-oz, clear wine-bottle shaped package uses minimal decoration, with the logo positioned in black type vertically up the front panel of the bottle. It is topped with a matching black cap. The bottle is produced and printed by Savani Water of Medley, Fla.