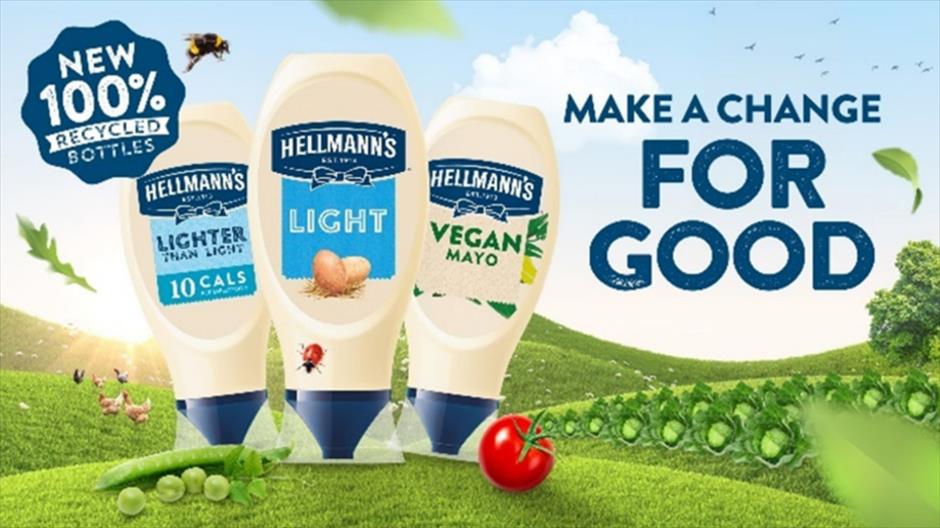 Hellmann's has announced it is moving its entire 'squeezy' range to bottles made with 100% recycled plastic. Nearly half the range has already made the switch, with the full range set to move by the end of 2022. The move will save around 1,480 tonnes of virgin plastic every year in the UK – the equivalent of more than 116 double deckers.
The new recycled packaging is made of the highest quality food-grade plastic, ensuring the mayonnaise inside has the same great taste that consumers know and love, and the new bottles will feature a 'New 100% Recycled Bottle' logo on the front of pack so shoppers can feel confident in making sustainable choices.
Increasing the use of recycled plastic in packaging is a key is part of Unilever's wider global packaging commitments which include halving their use of virgin plastic as well as ensuring all their packaging is reusable, recyclable or compostable by 2025.
The move for Hellmann's builds on their commitment to 'Real Taste and Less Waste' which includes encouraging consumers to reduce their food waste by highlighting mayonnaise as an ingredient which can turn left over food into meals.
Andre Burger, Vice President of Foods and Refreshment for Unilever UK & Ireland commented: "At Hellmann's we believe food is too good to be wasted, and now we're helping to reduce plastic waste too.
"With our new 100% recycled plastic bottles, we're providing shoppers with an accessible and simple way to help make their households and mealtimes more sustainable – whilst continuing to enjoy the products they love. Our Hellmann's bottles are our first food brand in the UK to use 100% post-consumer recycled plastic, and whilst making the switch has not been without it's challenges, these learnings will enable us to accelerate the move of other Unilever food brands to using more recycled plastic too."
Helen Bird, Strategic Engagement Manager at WRAP, commented: "Using recycled plastic in new products and packaging is the whole point of recycling and is a critical step in tackling plastic waste. It also takes 75% less energy to make a plastic bottle from recycled plastic compared with new (virgin) plastic so announcements such as this made by Hellmann's are very much welcomed. The PET bottles that the well-loved brand is made from are collected by all local authorities across the UK and because they are made using clear plastic rather than coloured, are able to be recycled back into the same plastic bottles. This matches the ambition of The UK Plastics Pact, of which Unilever is a founding member."