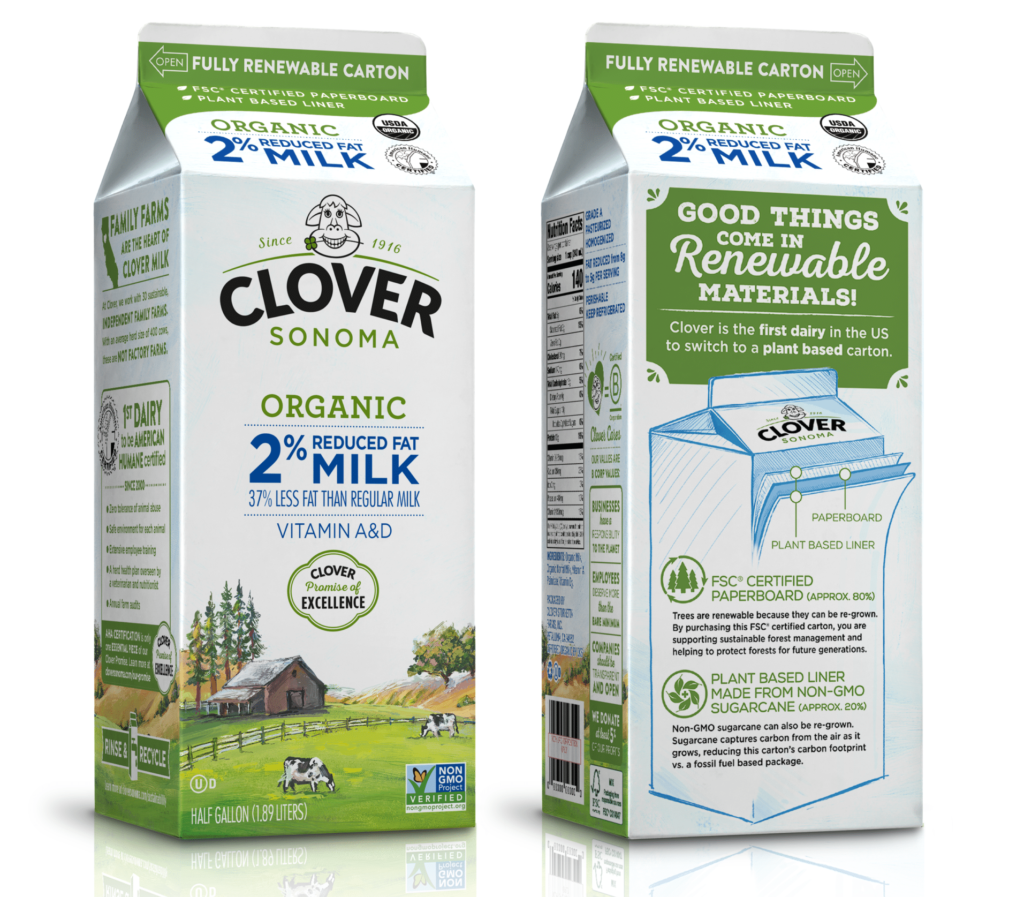 Komal Sharma
Clover Sonoma, a third-generation family-owned and operated dairy, today announced its B Corporation recertification and the first fully renewable plant-based milk carton in the United States as part of its continued focus on sustainability. As a result of better employee and community engagement, environmental standards, and corporate governance, the company received an improved score of 100.5 during its B Corporation recertification. Clover Sonoma attained a 96.9 score during its original certification in 2016. During its three-year certification term, Clover Sonoma's commitment to curating its relationships with farmers, employees, community, suppliers, and consumers across California has improved its social and environmental impact, and influence as a mission-driven business.
"Owning more than fifty percent of the branded dairy market in Northern California means we have a responsibility to do what's best for consumers," said Clover Sonoma CEO Marcus Benedetti. "We've baked sustainability into our DNA and continue to look for ways to foster growth within our organization, and aim to set the bar high for our community and other brands across our industry. Packaging is a big part of our focus as we try to find innovative ways to decrease the use of fossil fuels, utilize less plastic, and encourage recycling. Our new fully renewable milk carton is a first for the U.S., and we hope to transition the carton across our fluid milk line within the next few years."
Fully Renewable Packaging
Environmental pollution cannot be ignored; and plastic waste and fossil fuel-based packaging are main contributors to that pollution. In the past, Clover Sonoma made the conscious decision to reduce plastic waste by saying "no" to plastic caps on paper cartons. In doing so, the company prevented more than 227,000 pounds of plastic from entering landfills in 2019 alone. With its new Organic DHA Omega-3 + Choline Milk line, the company took its commitment a step further by partnering with 1% for the Planet to donate a portion of proceeds of the sale of the product to non-profit Plastic Pollution Coalition.
Now, Clover Sonoma is the first dairy in the U.S. to switch to a fully renewable plant-based milk carton. The company will be converting more than 10 million cartons this year and additional milk cartons until the entire line of milk cartons is fully renewable. There are two main components to a milk carton — the paperboard and the lining. The paperboard for our new carton will be Forest Stewardship Council® (FSC) certified, which means that consumers who purchase the renewable milk carton are supporting responsible forest management and helping to protect forests for future generations. FSC certification helps ensure that the soils, water quality, wildlife, threatened and endangered species, special areas, social rights, and biodiversity are all protected.
The lining inside and outside of the carton will be made of fossil fuel free green plastic made from Non-GMO sugar cane. Bio-ethanol made from sugar cane is used for a low-density polyethylene (LDPE) coating inside and outside of the carton. The carbon footprint of Clover Sonoma's renewable plant-based milk carton is less than fifty percent compared to conventional cartons (according to a European study by the Institute for Energy and Environmental Research). Both the paper board and liner materials are also traceable to their origins. Renewable resources can be replenished naturally over time; and more importantly, they enable a move away from fossil fuel-based materials, reducing the environmental impact, as well as improving resource efficiency.
Clover Sonoma's new packaging will be available on shelves this summer in our organic half gallon and quart milk cartons.
About B Corporation Certification
There are more than 3,200 Certified B Corporations from more than 150 industries and 71 countries with one unifying goal: to redefine success in business. B Corps are leaders of a global movement of people using business as a force for goodTM. The B Corp assessment process measures a company's performance in five categories: governance, workers, customers, community, and the environment. Certified B Corporations also amend their governance structure so that, by law, they can make decisions and implement practices that consider not just shareholder value, but the impact on all stakeholders — employees, customers, society, and the environment.
"We are proud to have Clover Sonoma recertify as a member of our B Corp community," said Manager of Community Engagement at B Lab Rebecca Jewell. "As the B Corp movement grows, we're appreciative of companies, like Clover Sonoma, who continue to honor their commitment to this community and use business as a force good. Clover Sonoma's improvement upon their score in the recertification process – no small feat – demonstrates their dedication to strive to do the best for their workers, their community, their customers, and the environment."
Once certified, companies must document their positive impact to qualify and undergo verification every three years to maintain their certification.
Community-Focused for Generations
For generations, Clover Sonoma has committed to building relationships within the Northern California community, evidenced by long-standing partnerships with farmers, employees, suppliers, consumers, and charitable organizations. All 30 Clover Sonoma dairy farms are family-owned and American Humane Association Certified. They are required to adhere to the company's rigorous quality standards, also known as the Clover Promise of Excellence, and are paid a premium to support those standards. Clover Sonoma's commitment extends to employees as well. All workers are confirmed to be receiving not only the individual living wage for their respective areas, but rather the family living wage which is estimated based on a family of four. In addition, the company supports its employees through generous health and wellness benefits.
As part of Clover Cares community giveback, the company gives at least five percent of profits every year to charitable organizations that fit within its mission of elevating dairy, empowering future generations, and supporting the community. The Clover Cares team selects and reviews each donation to make sure that every dollar is being maximized for the greatest social impact. Some of the programs supported through Clover Cares include a school garden project, a junior cooking challenge, education grants, and agricultural education. The giveback in 2019 alone came to more than $800,000 in cash and product donations.
More than half of Clover Sonoma's supplier expenditure occurs with independent businesses within 50 miles of the main processing facility, and the majority of its charitable donations are directed to nonprofits in the surrounding communities. As a result, Clover Sonoma helps drive economic activity within a relatively concentrated area, and minimize the need for environmentally harmful transportation over greater distances. Even the majority of the company's ownership and employees live locally to its operations, further ensuring that future commercial success will benefit Sonoma County.
Building a Sustainable Future
Clover Sonoma is on the path to tracking and formulating reduction targets for the company's energy use, water use, GHG emissions, and waste. For most of these areas, the company is tracking the amounts on a yearly basis. With this baseline data in place, Clover Sonoma will set annual reduction targets and formalize programs to achieve these targets, performing internal or external audits to check the efficacy of the programs implemented. To date, the company has already made significant progress in reducing and preventing plastic waste by investing in a plastic baler to recycle more than 80,000 pounds of plastic wrap annually.
B Corporation Certification helps consumers identify companies with a mission, and helps investors select investments that align with their values. Being a conscious company is at the heart of Clover Sonoma's business, and recertifying as a B Corporation is a testament to the company's heritage and mission-driven focus to building a sustainable future. As an early adopter of these best practices, Clover Sonoma looks forward to supporting this movement towards using its business as a power for good to benefit its community and industry.