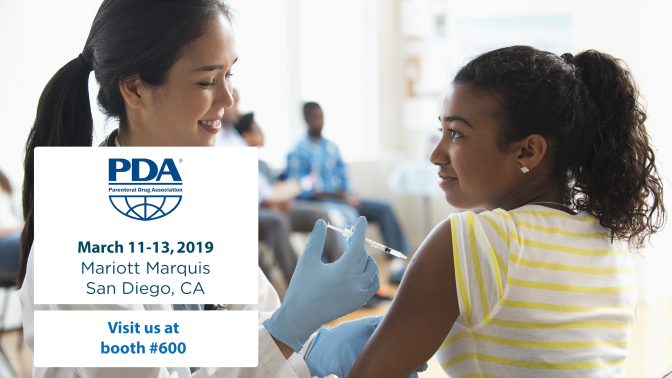 This year at Aptar Pharma's Booth No. 600, our experts will be showcasing the latest developments in our Premium product portfolio for elastomers, including Aptar Pharma's PremiumCoat™.
Another highlight of our booth will be our industry award-winning Aptar Pharma QuickStart™ for Injectables solution – a sterile, Ready-To-Use (RTU) drug development offering designed specifically to accelerate the development time for start-ups and early stage development, R&D, biotechs and university research organizations. Recently launched, Aptar Pharma QuickStart™ for Injectables is available for online ordering .
Visitors to our booth can also find out more about Aptar Pharma's expanded manufacturing capacity in North America.
During 2019 PDA Annual Meeting, Aptar Pharma will present two posters at the Poster Sessions:
"Migration Study to Evaluate the Impact of Steam vs. Gamma Irradiation in Ready-To-Use (RTU) Uncoated Stoppers and Fluorinated (ETFE) Film Coated Stoppers" will be presented by Michael J. Mayer, Senior Scientist from Next Breath, a specialty company of Aptar Pharma. "Establishing a Market Leading Answer to a Reduced Particulates Profile for Elastomeric Solution" will be presented by Arnaud Fournier, Senior Business Project Manager, Aptar Pharma.
Delegates at the event will have the opportunity to attend the Poster Sessions on both Tuesday, March 12 and Wednesday, March 13 between 10:00am and 10:45am.
With this year's theme Solving Manufacturing and Supply Challenges for Current and Future Medicinal Products, the 2019 PDA Annual Meeting is the PDA's flagship annual event, providing a learning and sharing venue for industry experts to gather the latest and most comprehensive information in the pharmaceutical manufacturing field.