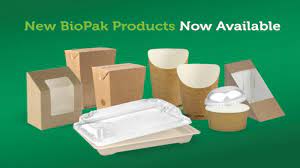 Grania Jain
BioPak's new products include various sizes of chip boxes, chip cups, wrap wedges, sandwich wedges, ice cream cups, sushi trays and taco boxes.
The new sandwich wedges and wrap wedges are made from a sustainably sourced FSC Mix certified paperboard, with a waterproof Ingeo bioplastic lining and window.
The chip boxes and scoops are made with sustainably sourced FSC-certified paper and are certified industrially compostable.
The ice cream cups are also made using FSC-certified paperboard and can be bought with domed lids which are perfectly portioned for service ice cream or frozen yoghurt. BioPak is now also stocking medium-sized sushi trays and two-compartment taco boxes.
Leanne Osborne, managing director of BioPak UK, said: "We're excited to launch these new products and add to our extensive range of food packaging.
"We've known for a while now that there is high demand for a more sustainable range of packaging from the quick service restaurant sector in particular, so I look forward to offering these products to our customers and partners."
DoorDash partnership
Meanwhile, BioPak recently announced a partnership with DoorDash to launch a new online shopping portal where merchants can enjoy exclusive pricing on sustainable packaging products, including DoorDash FSC™ certified bags.
The partnership symbolizes DoorDash's commitment to helping merchants reduce environmental impact and meet their sustainability goals in an easy affordable way.
Merchants will now have access to a new one-stop shop where they can create an account on BioPak's shopping portal using their DoorDash credentials and enjoy exclusive pricing when purchasing sustainable packaging products such as sugarcane containers and paper bags for their takeaway and delivery needs.
Leading the way in sustainable packaging solutions in Australia, New Zealand, Singapore, the UK and Europe, BioPak is on a mission to create a world without waste where all product design, from raw material to disposal, puts the environment first.
As a certified B Corp BioPak's plant-based, compostable packaging is the perfect solution for DoorDash merchants working to reduce waste and adhere to sustainability standards.
BioPak CEO Gary Smith said: "The partnership with DoorDash is an important step in our fight to achieve a Zero Waste future.
"At BioPak, we're committed to disrupting the traditional packaging model and creating compostable solutions that can be adopted by businesses across Australia and APAC, changing consumer behaviors to adopt only circular economy solutions."