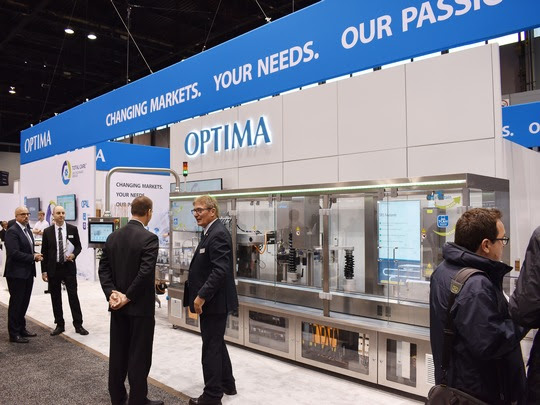 Smart services and machine exhibits strike a chord with visitors at Pack Expo
Changing markets. Your needs. Our passion. This is the slogan under which Optima presented at Pack Expo, the USA's most important packaging trade show, between October 14 and 17. The company showcased flexible solutions to help businesses meet the current challenges: dynamic markets, an evershorter time to market, more complex packaging processes, and digitalization. All the company's divisions were satisfied with the outcome of the trade show.
Flexible, modular system concepts were the focus of Pack Expo. Visitors were attracted by a machine concept based on the OPTIMA MODULINE filling and sealing machine. The highlight of the concept was a new, particularly fast SRS transport system. Thanks to the integrated smart software, the system can be programed much more quickly than standard transport systems. "The visitors were also impressed by the second exhibit – the sterility test isolator STISO," reports Ulrich Unterriker, Managing Director of Optima Machinery Corporation based in Green Bay, Wisconsin. "We had some promising conversations with customers from all our business areas, discussing current and new projects. We expect to close a deal for some of them soon," says Unterriker.

All four of the company's business areas were represented in Chicago. Optima Pharma was really pleased with the trade show. After Pack Expo, the pharma division is anticipating many projects with great potential. Visitors were primarily interested in filling solutions for vials and syringes. Optima Nonwovens assesses the trade show in a similar way. Many customers with subsidiaries in the USA asked about the latest developments at the booth. Optima Consumer registered great interest in the new InlineCan packaging solution that was also on display at the booth. The company received the most inquiries from visitors from the food, chemical, and cosmetics industries. Optima Life Science reported forging numerous new contacts and organizing upcoming follow-up meetings.

Major interest in OPTIMA'S digital products
Experts from all areas unanimously reported keen interest in Optima Total Care. The life cycle management smart services drew the attention of the visitors. OPAL and TCAM were exhibited. With OPAL, Optima's line management system, the OEE and other key
figures can be calculated and potential improvements in the packaging process identified. Optima's Total Care Asset Management (TCAM) is a tool that analyzes the condition of packaging systems using sensors, announces maintenance requirements in advance, and accelerates the flow of information. Optima will also attend the Pack Expo in 2019, which is taking place from September 23 to 25 in Las Vegas.
Upload Press Release file: