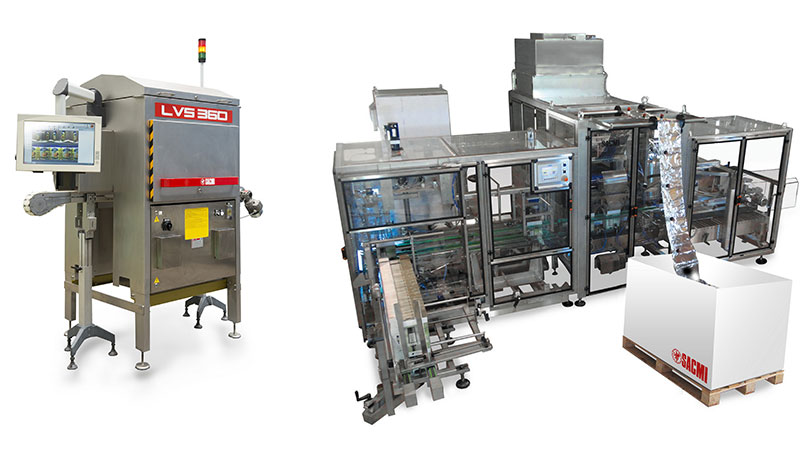 North America's biggest fair to showcase LINEAR filler for Bag-In-Box lines alongside labelled bottle and container inspection systems
Featuring unique compactness, efficiency and process hygiene, SACMI fillers can handle a wide range of formats with ultra-high productivity. From 14 to 27 October 2018, the SACMI filling solutions range will play a lead role (on stand n° S-2066) at Pack Expo International; the fair will take place at McCormick Place, on the south side of Illinois' capital city, Chicago.
With over 50,000 visitors expected from 125 countries, Pack Expo is North America's n°1 event, making it the perfect showcase for Sacmi's filling range, which has undergone constant improvement and expansion in recent years. Like other solutions in the series, the LINEAR filler (recently purchased by a major American customer) exhibited on the SACMI stand stands out because of excellent productivity. It also offers huge flexibility in handling the different commercially available formats and, above all, has a totally ultra-clean filling method that ensures perfect product integrity.
The displayed monobloc version of the machine lets a single worker, inside an extremely compact area, manage the entire process: box forming, filling, bag placement in box and box closure. SACMI BIB systems are installed all over the world, They allow manufacturers to fill bags not just with concentrated syrups but also with water, oil, wine and juices by using a mass flow meter. More specifically, the USA has seen the installation of dozens of BIB solutions for wine, concentrated syrup and mineral water.
However, Sacmi provides more than cutting-edge technology. It also supplies valuable design consultancy covering every stage of the beverage production line. That's why we'll be making the most of Pack Expo to underscore two aspects: our ability to design and supply complete PET lines with major new developments that range from upstream integration of cap and preform production stations and, secondly, the possibility of configuring, downstream, all the container stretch-blow, filling, closure and labelling stages in a new all-in-one solution called Heroblock. In terms of productivity, the new range of SACMI SBF double cavity stretch-blowers makes a huge difference: thanks to the dual in-mould cavity, they can make one bottle or two simultaneously, thus multiplying productivity with the ever-more popular small-medium formats.
Labelled bottle and container inspection is guaranteed by BVS (bottle vision system) and LVS (label vision system) units. These will also be displayed on the Group stand at this special edition of Pack Expo Chicago. Developed by the SACMI Quality and Process Control Division, these systems perform all-round container and label checks and can detect even the tiniest defects, such as slight variations in label colour or small creases or tears. The unique software (64-bit CVS 3000 2.2), installed on all SACMI inspection machines, lets users monitor the performance of individual machines or entire line production lines via any smartphone or tablet connected to the corporate network.
An outstanding technology and service provider, the SACMI Group has had facilities and branches in the United States for decades, headed by SACMI USA. Our far-reaching presence on this strategic market ensures customers get 24/7 total care plus all the latest on-machine monitoring and remote technical assistance features.
Upload Press Release file: