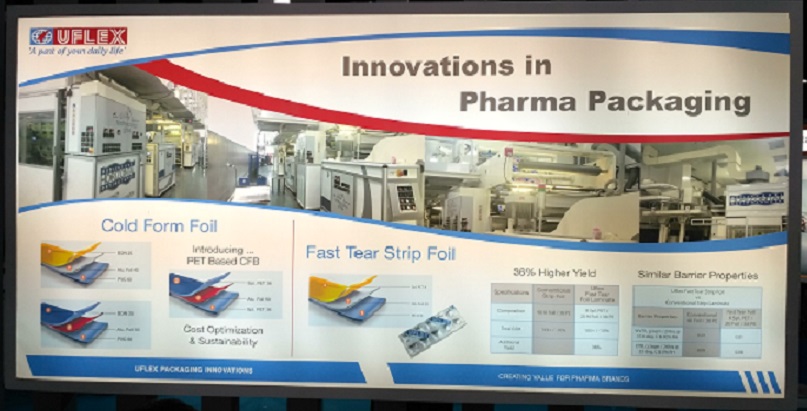 Uflex Booth showcased a product portfolio of its latest innovations in Cold Form Blisters, Child Resistant & Senior Friendly Foils and Fast Tear Strips focusing both in anti-counterfeiting and brand protection.
The new development in Alu-Alu Cold Form Blisters resonates with vision of Uflex to eradicate spurious drugs in the market by introducing anti-counterfeit measures. This is a great product for the pharmaceutical packaging industry that will definitely help in brand protection and curb the market of fake drugs.
Commenting about this innovation, Mr.Amit Ray – Executive Director & Member of Board at Uflex limited said, "We have developed an Alu-Alu where special polyester film has replaced both PVC and BON making it an indigenous product because of the fact that both PVC and BON have to be imported from countries like China, Korea and Taiwan."
The new innovation with CRSF i.e. Child Resistant & Senior Friendly Foils are available in Push Through and Peel-Push. It takes some amount of diligence for a child to open it but an adult or senior can open it easily.
Uflex fast tear strip foil is significant in many ways as it has 36% more yield than the popular laminate used in the industry, it is easy to tear thus is compliant with patient and has comparative barrier properties vs. the conventional strip laminate. Discussing on the products which are under development says Mr.Amit Ray. He further added "We are investing in technology, Capex, time and money in pharma segment to raise the bar both in terms of quality and growth."