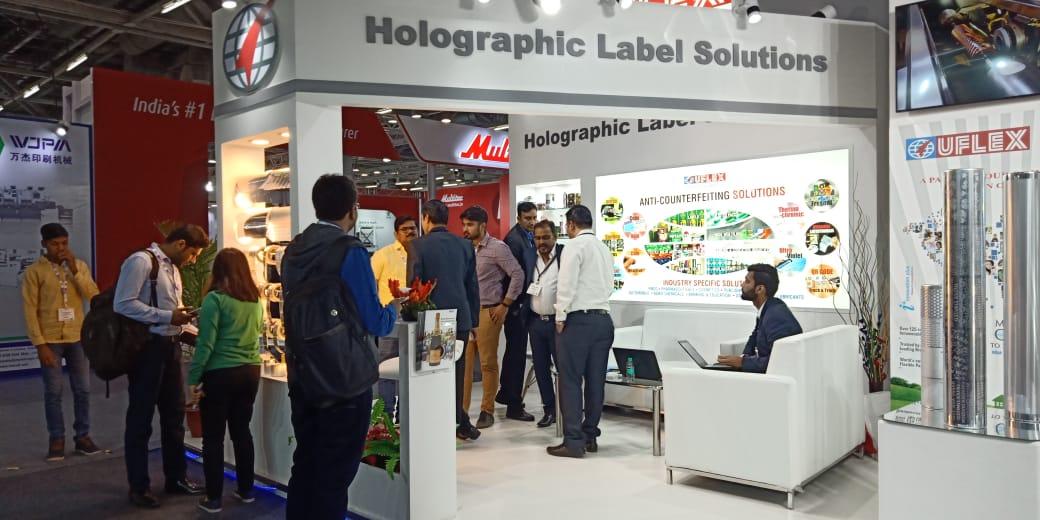 Uflex Holography Division has developed premium lens transferred paperboard using Fresnel lens. It is presented for their visitors and customers at Label Expo being hosted in Noida, India from November 22 – 25, 2018. Labelexpo India is the largest event for the label and package printing industry in South Asia. Their Booth showcased a product portfolio of its latest innovations in registered printing on the cartons and its anti-counterfeiting labels focusing both in terms of aesthetic value and brand protection.
The registered printing on the paperboard cartons using Fresnel lens provides a premium 3D effect and also changes with change in perspective. The novel feature about this technology is that there is no film attached to the paperboard and it is a direct registered impression on the paperboard or carton. The state-of-the-art innovation in registered printing using Fresnel lens on the paperboard cartons eliminates the need of lamination and thus has a huge potential of saving on the lamination cost for the customers.
The Fresnel lenses can be printed in any color, size and shape and gives a plethora of options in decoration as per the customer's design. Additionally this pattern is difficult to duplicate or produce and provides an anti-counterfeit solution in brand protection.
The product resonates strongly in sustainable packaging as being 100% biodegradable and decomposes into soil along with the main substrate that is paperboard. The transferred board can be replaced by a Metalized board thus offering a sustainable packaging solution and can be considered as Green Packaging.