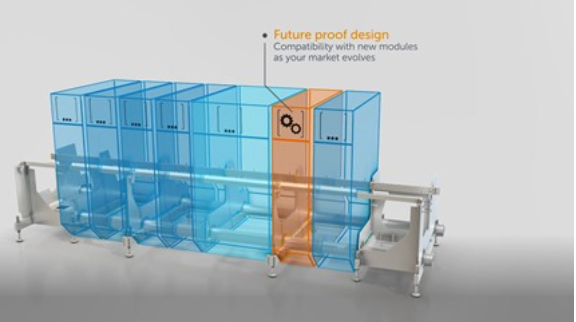 Aditya Panwar
Synerlink, a leading provider of sustainable packaging solutions for the food industry, has introduced Versatech, a forward-looking filling solution tailored for the food and dairy sector. Versatech's modular design allows customers to adapt this packaging innovation to their evolving business strategies over time.
François Truffier, President of Synerlink, explained, "Through discussions with our customers, we identified a market need for a filling solution that extends beyond the standard 20-to-30-year lifecycle. Instead of discarding the machine when it no longer aligns with their business needs, Synerlink's customers can easily and cost-effectively reconfigure Versatech to support new initiatives."
Versatech begins with a compact 2.5-by-4-meter frame and can be expanded using standard-increment modules measuring 440, 880, or 1,320 millimeters. The machine's flexibility is complemented by a centralized cabling network, offering plug-and-play functionality. This enables food and dairy processors to access the latest filling and packaging technologies as they become available.
Fabien Jégo, Synerlink Design Leader, noted, "Versatech offers more versatility for large food and beverage processors with established product lines, allowing them to explore new markets, products, and packaging options. For smaller processors requiring a machine that matches their current volume and can scale with their business growth, Versatech is the ideal solution."
Beyond its future-ready design, Versatech incorporates other customer-driven features. The tubular frame shape, removable slats, and chainless design simplify maintenance and enhance hygiene safety. The loading station's improved ergonomics, as well as simplified training and troubleshooting via the HMI (Human-Machine Interface), address the challenge of operator turnover.
Fabien Jégo added, "Today's Versatech incorporates cutting-edge technology for filling yogurt, sour cream, butter, and other products in cups. In the future, this innovation will extend to products in bottles, jars, and other rigid containers, even accommodating sustainable and hygienic packaging technologies that may not exist today."
Free Research Preview. ChatGPT may produce inaccurate information about people, places, or facts. ChatGPT August 3 Version