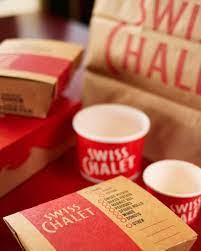 Grania Jain
WestRock Company, a leading provider of differentiated paper and packaging solutions, has announced a partnership with Recipe Unlimited to implement a suite of recyclable paperboard packaging, intended to divert 31 million plastic containers from landfills across Canada each year. The packaging began appearing at Swiss Chalet restaurants in October, 2021 and is now available across all its locations. 
With a goal to replace rigid black PET trays and lids with packaging made from renewable resources, the two companies used discovery sessions in their early collaboration to zero in on the right sustainable solution. The modular system uses uncoated recycled board (URB) and EnShield® Natural Kraft to maintain the high performance standards required by Swiss Chalet, while simultaneously increasing the sustainability attributes of its takeout containers. It received the PAC Global Award for Sustainable Design during the Inclusive Opportunities & Universal Design Summit in February, 2022.
"Partnerships like this, where we can support Swiss Chalet in their sustainability efforts, are one of the most rewarding parts of our business," said Patrick Kivits, president of Consumer Packaging at WestRock. "Leveraging our comprehensive portfolio of sustainable products enables us to create a fully-recyclable solution that helps our customers, and ultimately their customers, achieve a more sustainable future."
Sustainable packaging has been identified by Recipe Unlimited, parent company of Swiss Chalet, as one part of their $20 million commitment to sustainability, announced in the company's inaugural Sustainability Report, released in August. The new packaging is recyclable. It is produced by WestRock using both recycled fiber and fiber from responsibly managed forests. 
 
"Our goals create a greater vision that helps to further unite our teammates, franchisees, and suppliers around the priorities that matter most: sustainably growing the business, taking care of our People and Planet, and delivering the exceptional dining experiences our guests have come to expect," said Frank Hennessey, chief executive officer at Recipe Unlimited.
WestRock leveraged its comprehensive portfolio of sustainable paper to develop this packaging solution for Swiss Chalet. Uncoated recycled board containing 100% recycled fiber was selected for outer meal cartons to increase ease of disposal in curbside recycling. EnShield® Natural Kraft was selected for inserts and hot sides cartons to provide recyclable options with a grease barrier where the menu items demand it.