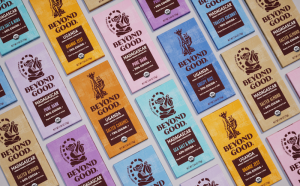 The packaging is designed to highlight unique properties of single-origin cocoa. Working with global packaging and brand experience company SGK, the company is shifting its descriptors from heirloom to single-origin to increase awareness of the unique flavors in each country's cocoa, created by genetic varieties and local environmental conditions.
As part of the brand's commitment to transparency and traceability, the new packaging will include a QR code on the inside of the wrapper, allowing consumers to scan and see into Beyond Good's supply chain. Through the new packaging, set to roll out in November, consumers will discover the distinctive complexities of single-origin chocolate. In addition, using digital technology will enable the company to tell a more detailed story about the product's journey from 'farm-to-bar'. For the Madagascar varieties, consumers can meet all 93 farmers Beyond Good works with directly, see where the cocoa beans in their chocolate are grown and where their chocolate is made. For the Uganda flavors, consumers can learn more about the unique flavors of Uganda cocoa and the company's supply chain goals in that country.
Tim McCollum, CEO of Beyond Good, said, " We are in the final stages of building an interactive, public facing website that connects consumers directly with the farmers in our supply chain – down to the parcel of land and the number of trees on that parcel." He went on to explain that social and environmental responsibility – and the traceability that requires – has been built into the company's business model. "We have a factory in Africa and zero middle men between us and the farmer. Whereas traceability is impossible for most chocolate companies, it is unavoidable for us," he added.
To elevate the experience even further, each package will also incorporate curated tasting notes to help guide the consumer through distinguishing single-origin flavors and qualities.