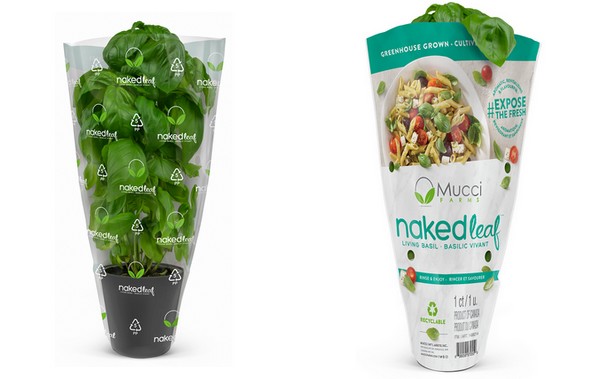 Komal Sharma
The Naked Leaf Living Basil Sleeve joins Simple Snack, Cutecumber Poppers and Paper Top Seal to become the fourth package in three years to be recognized by the industry for sustainability. The latest innovation reduces plastic by 50 percent by converting half of the package to paper.
"There's a worldwide effort to be more environmentally friendly and we knew this package checked all of the boxes," said Fernanda Albuquerque, packaging development manager. The sleeve can be taken apart to place plastic in the plastic stream and paper in the paper stream for recycling. Additionally, the exterior pot is reusable or recyclable, and the interior growing pot is 100 percent compostable. "We're very grateful to be recognized once again by the CPMA for our commitment to become a more sustainable company and industry," says Albuquerque.
In addition to the package, Naked Leaf Living Basil is a product that will hit home with shoppers. "Not only is the package sustainable, but the product is unique as it's living basil that comes with the root intact which allows you to water it as you would a plant, and pick leaves as you go," said Emily Murracas, director of marketing. "Our talented design team did a great job of bringing the aesthetic to the sleeve which certainly stands out on store shelves and the virtual format helped us expand our creativity to offer attendees with more information through digital video content."
The Packaging Innovation Award was one of five New Produce Showcase Award categories that also included Best New Product, New Technology, Snackable Product and Organic Product. In all, 56 products from 42 companies were featured and winners were chosen by a panel of judges from across the industry.
Mucci Farms additionally introduced its new Cultivo Mushroom Collection and a new redesign of its Cherto Gourmet Cherry tomatoes which is now offered in a loose snacking format. The 2020 Packaging Innovation Award winning Paper Top Seal has also expanded its offering to a one-pint size for multiple Mucci Farms snacking tomatoes.