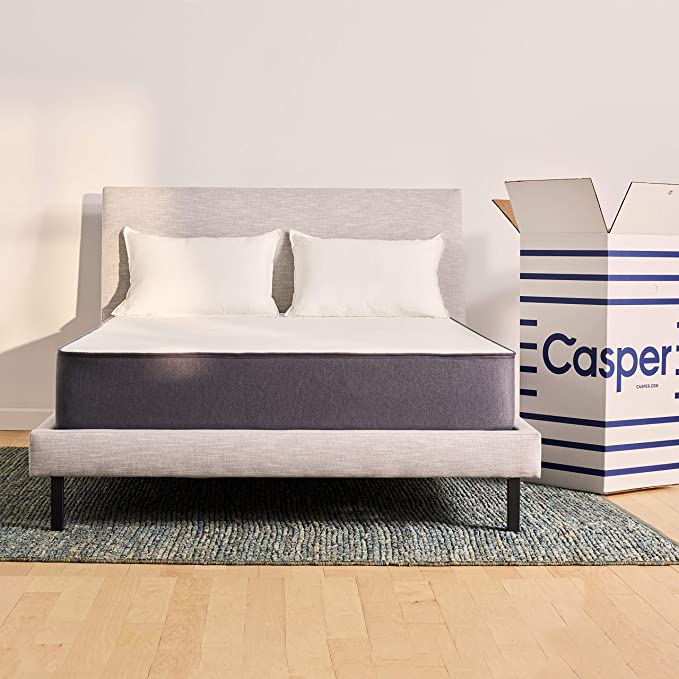 A mattress in a box is just like a regular mattress. The only difference is that it's compressed in an air-sealed bag and rolled tight before shipping. It's then placed into a box about the size of a mini-fridge for shipping. Upon arrival, this tidy box is much easier to maneuver than a traditional mattress. This sort of purchase allows you the flexibility of picking your mattress online and having it easily delivered to your door.
Clearly, an innerspring mattress is not able to be rolled into this compact form. The most common boxed mattress type is memory foam, but there are many latex foam and hybrid mattress options on the market as well. 
Mattress in a box options are available for all standard bed sizes. In most cases, a boxed mattress can be used with the bed frame and box spring you already have.
How Does a Mattress in a Box Work?
A mattress in a box offers an updated version of the original mattress shopping model that eliminates the need to visit a store. When you receive the rolled mattress, all you'll need to do is pull it out of its packaging, lay it flat, and let it expand. The foam structure of the mattress ensures your boxed mattress will quickly regain its original shape once unrolled. The entire process allows us to cut out the traditional mattress delivery and pass the savings on to you.
Benefits of a Mattress in a Box
Convenience
The ability to order online allows you to compare prices and features while mattress shopping without leaving your home. Once you choose your perfect mattress, simply wait for it to be delivered. Since it arrives in a compact box, you can easily pick it up and move it wherever you need.
Easy Assembly
You don't have to worry about lugging a bulky mattress up or down stairs or fitting it through narrow door frames. The tidy box form makes it much easier to transport the mattress to your bedroom.
Variety 
Opting for a box mattress over a traditional mattress doesn't mean you have to sacrifice versatility. Choose between our Original, Element, and Wave Hybrid mattress options to find the firmness level that supports your preferred sleeping position.
Buy Directly from the Brand
The ability to buy your new mattress directly from the manufacturer, rather than from a mattress store, gives you benefits like extended warranties and free trial periods. Our customer service team is also available 24/7 to help you if you run into any issues or aren't sure which mattress type to get.
Cost Savings
Buying a box mattress from an online mattress company cuts out the middleman, which results in cost savings for you. You also don't need to worry about paying additional fees for shipping and delivery from a mattress store. Choosing a boxed mattress allows you to get the same high-quality mattress you would get from a store, but oftentimes at a lower price.
Easy Returns
If you decide you aren't loving your Casper mattress within your 100-night free trial, you can return it for free. Simply contact us and we'll work with you to get your mattress returned or exchanged.