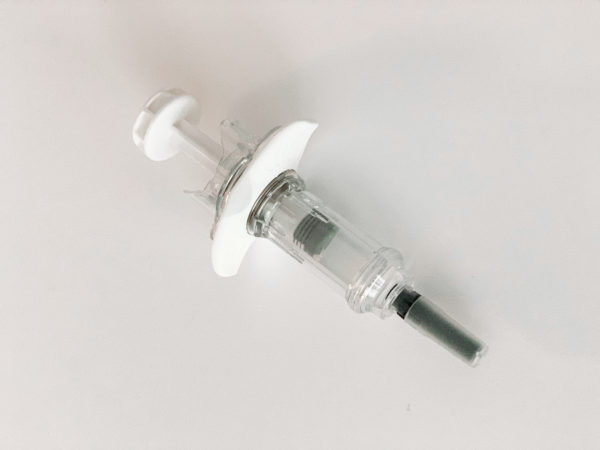 The growing prevalence of chronic diseases, along with the evolution of patients' lifestyles, is driving new ways of administrating parenteral drugs. Novel treatments have become available, with the majority arising from biological molecules. Biologic drugs are predominantly administered via injectable devices, using prefilled syringes as a base. Safe'n'Sound® is a passive, one-handed safety device and is intended to be used by non-experienced users for self-administration as well as by healthcare professionals.
The Safe'n'Sound® needle safety device platform is now available to accommodate 2.25 mL fill volume prefilled syringes. This new 2.25 mL size is specifically relevant to administer complex, high-value drugs such as monoclonal antibodies or other biological therapies. It offers a reliable and intuitive design for user safety, and is compatible with any type of ISO standard 2.25 mL prefilled glass syringe, including various flange types.
Nemera understands the importance of device optimization to increase patient safety during self-administration of medication. Self-administration at home therefore translates into a need for safer, easy-to-use and ergonomic devices. Having patients (or caregivers who are not healthcare professionals) inject a drug brings increased risk of usage errors and needle-stick injuries. Protecting users from sharps injuries, whilst optimizing the injection experience, has become compulsory.
In light of this, the priority is to understand the patient journey in order to provide better outcomes. At the earliest stages of establishing the requirement and user needs for a delivery platform, Nemera works with customers to fully understand the patient journey by using a technique called applied ethnography. This method relies on a combination of interviews and in-context observations of practices, processes and experiences within the patient's home or natural environment.
Regulations and recommendations are evolving to improve patient and health worker safety. In this context, Nemera's Safe'n'Sound® product range matches the need for safe and easy-to-use self-deliveries – this passive safety device for prefilled syringes provides increased safety for patients and healthcare professionals.