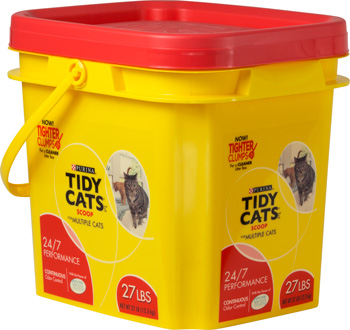 Saving 1.6 million pounds of resin annually – In reviewing their Tidy-Cat litter 27 and 30 pound pail packages, Purina decided the existing pails used too much plastic
News:
The packages were just larger, heavier and costlier than they needed to be.When Purina approached Gateway, we viewed it as an opportunity to not only offer a "greener" package, but to improve the aesthetics of the pail. First, we developed a new "fluted" design that reduces weight and maintains top load performance. The traditional wrap-around label was then eliminated in favor of four individual In-Mold Labels, a first for the IMDA (In-Mold Decorating Association), on a floating label within a side panel. Our higher resolution IML labels gave Purina the new look they desired.
The Result: The new, thin-walled, in-mold labeled container, with its unique shape and lid design, also improved stacking characteristics and reduced the resin content in the pail.