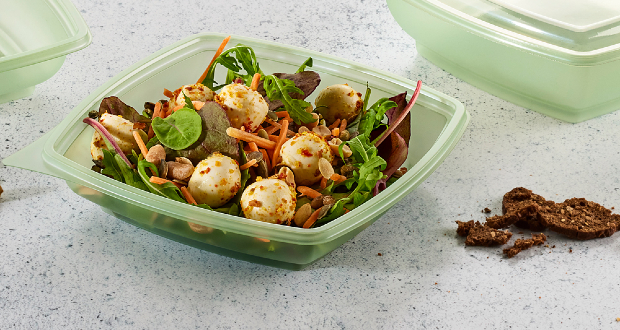 David Lucas, Sales Director of Foodservice, UK and Ireland at Faerch UK Ltd says: "Evolve by Faerch is designed to close the loop on food packaging and therefore plays a key role in the industry's transition towards a true circular economy. The Evolve by Faerch Plaza bowls are made from recycled household post-consumer material which, after use, can be recycled into new mono-material food packaging without any loss of quality."
The Plaza range provides a stylish and practical serving solution for salads and pastas. The bowls are designed to enhance on-shelf presentation and appeal and are available in a wide range of sizes, which can be stacked for space-efficient storage.  The Evolve by Faerch Plaza bowls vary in colour, reflecting the recycled material they are made from. This effectively communicates the sustainable nature of the bowls to the end-consumer. This attracts attention and impacts buying decisions.
Converting from clear to circularity
Today, most of the recycled PET on the market is derived from transparent bottles. However, with more and more companies sourcing recycled PET, the demand for recycled bottle content has increased significantly. As the world's first integrated recycler of PET food packaging, Faerch is offering tray to tray recycling on an industrial scale. The company's recycling facility in the Netherlands is capable of taking in used post-consumer trays from collectors, sorters and recycling them back into food grade mono-material, again and again.