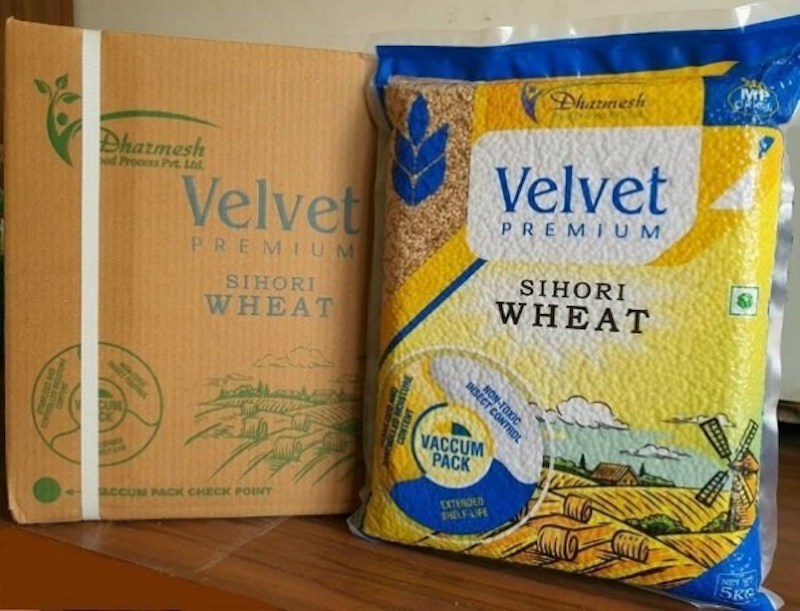 Dow Packaging & Specialty Plastics (Dow P&SP), announced today the advancement of a partnership with a local leading barrier film manufacturer, Vishakha Group, to develop a "Recyclable Barrier Film" for Solids packaging. These films will be used for the first time by Dharmesh Foods for vacuum-packing wheat.
Wheat is conventionally sold loose to consumers in India. As one of the recognized wheat processors in India, Dharmesh Foods is pushing the industry towards the use of vacuum-packed flexible packaging in order to increase shelf life and avoid contamination. Vishakha's Recyclable Barrier Films is ideally suitable for the application, as it can extend shelf life, reduce food wastage, and is also recyclable.
Jigish Doshi, CMD of Vishakha Polyfab Pvt Ltd, said, "We at Vishakha always strive to contribute to the future of the country, by developing sustainable solutions for agriculture, renewable energy, storage, and in this case, packaging materials that allow for a longer shelf life. This recyclable barrier film solution will not only add to the shelf life of the product and reduce food waste, it also helps communities in allowing for recycling of the packaging itself."
Vipul Babu, Sales Director for Dow P&SP India SC, said, "The joint effort between Dow P&SP, Vishakha team and Dharmesh Foods saw the three companies come together to co-develop a nylon-based barrier film enabled by Dow's RETAIN™ Compatibilizer to make recyclable packaging for wheat. This partnership brings valuable stakeholders together to foster positive impacts with sustainable packaging solutions."
RETAIN™ Polymer Modifiers were developed using Dow's extensive knowledge of materials science and reactive chemistry to enable the efficient compatibilization of two otherwise immiscible materials, while maintaining critical value-added physical properties. RETAIN™ is specifically designed to compatibilize polyamide (nylon) and ethylene-vinyl alcohol (EVOH) into a continuous polyethylene matrix.
This innovative technology is based on a reactive, ultra-low viscosity compatibilizer. Reactive groups "coat" the polar components, encapsulating them into micro-domains to enable excellent dispersion. When blended at specified ratios with pelletized barrier film recycle streams, the RETAIN™ polymers allow recyclers to re-process used barrier films into conventional polyethylene based recycle streams.
Dharmesh Thakkar, owner of Dharmesh Foods said, "We're committed to securing a healthy and sustainable future for India. Our partnership with Dow P&SP and Vishakha allows us to use state-of-the-art recyclable barrier films, which ensure better taste and increased shelf life. This is a significant breakthrough for the wheat industry, which can offer our customers better quality of daily life, as well as providing environmental benefits."