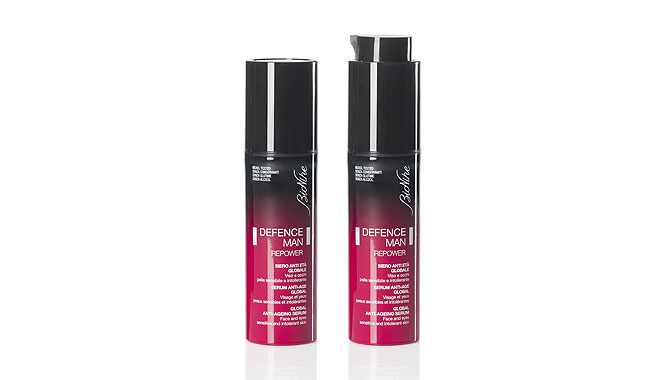 Bionike's Defence Man Energise revitalising cream-gel and Defence Man Repower anti-ageing serum are being packed in the 50ml Twist Up. The two-tone decoration, with the base in Bordeaux red merging into the top in black, is silkscreen printed with shaded lacquering to create a distinctive and high-quality appearance that reflects the prestige nature of the products.
In addition, the Twist Up's airless technology helps to protect the products' natural ingredients to maintain their efficacy throughout their usage.
Twist Up technology works by turning the upper part of the dispenser to reveal the dispensing head. The dispenser offers consistent controlled dosing and hygienic application of the creams and then closes in the 'down' position to protect the contents. A clicking sound confirms that the dispenser has been safely opened and closed.
The overall pack mimics the appearance of a conventional overcapped dispenser, complementing and creating a family look with other products in the range.