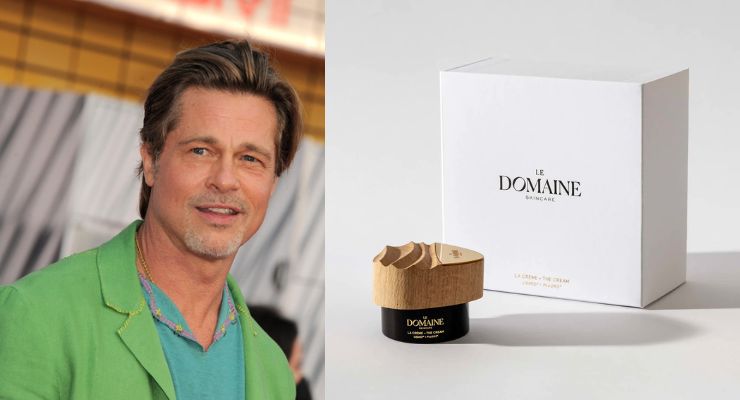 Grania Jain
American actor and film producer Brad Pitt is venturing into the beauty industry with his own genderless skincare line.
 
Le Domaine, which Pitt co-founded with the Perrin family of organic wine growers at his co-owned vineyard property in Southern France, is promising to be a new "science-meets nature line of genderless skincare essentials."
Exclusive Ingredients
According to the brand's website, the products, which range from $80 to $385, feature two exclusive, patented active ingredients: GSM10 and ProGR3.
 
GSM10 is an exclusive molecule in Le Domaine's Serum, Cream, Fluid Cream and Cleansing Emulsion that combines potent properties from the seeds of Grenache grapes with the seeds and skin of Syrah and Mourvedre grapes. It serves as a powerful antidote to oxidative stress, which can break down collagen and contribute to the myriad physical signs of ageing.
 
ProGr3—Le Domaine's other patented active ingredient—is the result of research on progeria and its main mechanism: progerin toxicity. A combination of three natural molecules present in plant extracts, vine sarments, camomile and green tea, ProGR3 has scientifically demonstrated its efficacy on the toxicity of progerin, the marker protein of ageing.
 
Furthermore, Le Domaine carefully chose its ingredients and has established a very strict blacklist excluding ingredients that are subject to controversy regarding the environment or the natural balance of the body, including:
 
NO Preservatives such as parabens, phenoxyethanol, MIT, triclosan, chlorphenesin, BHA & BHT
NO Silicones
NO Micro plastics
NO Mineral and synthetic oils
NO Animal or of animal origin ingredients
NO Sulphated surfactants
NO EDTA
The Terroir
The vineyard's soil is also important to the brand. The terroir is a unique approach to the sourcing of ingredients for Le Domaine.
 
Key elements such as grapes and olive oil in the products have a 100% traceable origin. They are derived exclusively from the Perrin family's lands and are also eco-extracted by natural means, by Le Domaine's farmers.
 
According to the brand, this local approach to nature in cosmetics has a direct effect on the efficacy of the products, due in part to the unique freshness of ingredients that are picked directly from the terroir, but also their very specific properties.
Sustainable Packaging Commitments
The skincare line, which focuses on "green beauty," features refillable products, upcycled packaging materials, and formulas that are between 96% and 99% of natural origin.
 
The bottles are punctuated by a unique packaging detail: wooden caps recycled from old wine casks.
 
"The goal is to imitate the organic cycles of nature, its primeval beauty. There is no waste in nature. Anything left over or discarded becomes food for something else. This exemplary circular system is the inspiration for Le Domaine," said Pitt.