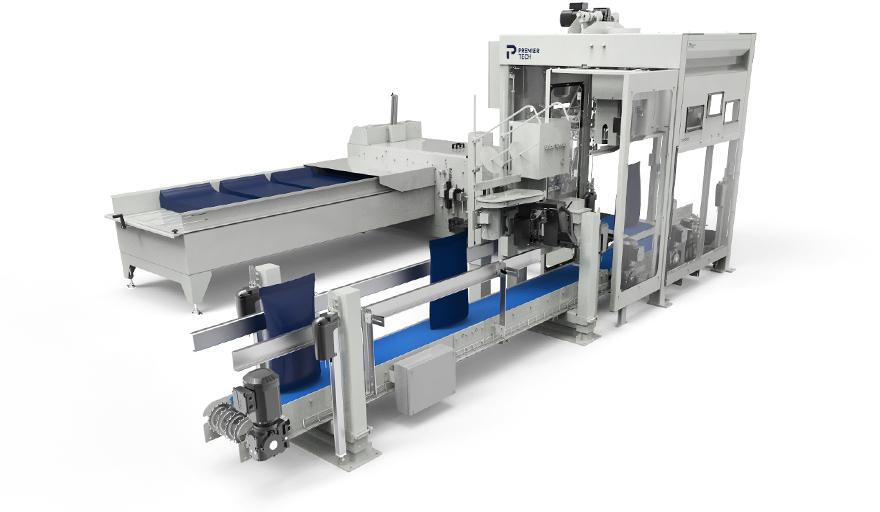 Yogesh Malani
"The 21st century" has become a term closely associated with technology and globalization. It should come as no surprise that everyone is trying to revolutionize themselves, as well as their businesses, through digital transformation and new innovations, in fear that they could be left behind otherwise. For the sugar industry, things are a little more challenging.
The key to earning the loyalty of both large and SME customers is with quality products. There are two factors that have a direct impact on the quality of sugar; one is the raw material, which is sugarcane, and the other is the manufacturing devices used, such as automatic bagging machines. As such, Premier Tech would like to offer some ideas to sugar businesses to help them stay ahead of the game. 
The world never waits. Only those who can adapt quickly and accordingly will prevail.
Automation: Nowadays, the role of automation in the manufacturing industry continues to grow. Businesses need to adapt and use automation to help boost their productivity. The automatic bagging machine, for example, can help reduce labor costs within the production line, lower the number of work-related accidents, and allow workers to develop new skills.

The key success factors for the production process are quality and efficiency, which must go hand in hand in order to yield success both in domestic and international markets. Therefore, the quality of the sugarcane must be top-notch. The production process must be sustainable for the farmers, as well as the community. Additionally, businesses must learn to efficiently solve
problems that occur. One of the problems that could potentially affect other parts of the production line is the packaging, examples of which include:
Weight inaccuracy due to substandard automatic bagging systems
Machine failure and delayed repairs which could disrupt major business opportunities
A lack of automation, so the packaging process is slow and quality control is difficult
These are just a few challenges businesses should be aware of. One of the easiest solutions is to use an automatic bagging machine equipped with a bagging scale, which offers better packaging consistency, as well as better control of both the speed and the amount of packaging. Additionally, the process will be much more hygienic.

It's a given that when doing business, you need a partner to help execute tasks that you are not proficient in; for example, when ordering new packaging or conducting machine maintenance. The maintenance, in particular, is a complex task that requires specialized experts in order to ensure the smooth flow of work. The key is, of course, to work with an internationally-renowned company with standardized systems. However, if you work with foreign companies, you should ensure that they have a local support team in India who can take care of any malfunctions in a timely manner.
In recent years, we have seen a sharp rise in health trends which focus on lowering sugar intake and converting to other types of sweeteners such as aspartame or Stevia. Understandably, this has been a cause of concern for many sugar manufacturers. Premier Tech has a few suggestions for sugar businesses to try: 
Although the primary product in a sugar factory is sugar itself, businesses should also work to maximize profits from the raw materials they have available. For example, they can create processed products or sell the leftovers to other businesses, such as selling molasses to soy sauce or ethanol producers since they can be turned into biofuel or alcohol which are in high demand, particularly in the medical industry. 
At the same time, it is important to maintain the quality of the sugar. There is a large group of people who are not too keen on consuming other types of sweeteners. Some may not be able to eat them due to medical concerns, while some still want the energy produced by sugar itself which sweeteners like Stevia cannot replace. 
As you can see, the heart of the sugar production process is not just about raw materials, but the equipment too. No matter how good the sugarcane quality is, it may not be able to generate the value it should if your equipment is substandard. So, what about your business? Are you ready to take a step towards the ever-changing 21st century?
The easiest step you could take to improve the stability and accuracy of the entire packaging process is with the CHRONOS OML-1140 automatic bagging machine. It has a packing speed of up to 25 bags/minute with great accuracy. The deviation does not exceed 30g. as prescribed by the Office of the Cane and Sugar Board, and the machine can work 24 hours a day. Plus, there is a team of engineers and technical experts in India to provide after-sales service to assist and relieve the concerns of sugar producers.