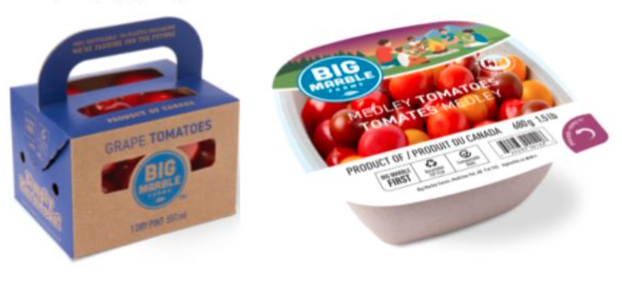 Press Packagingconnections
Over the last twelve years, Big Marble Farms has grown from 5 to 55 acres. "And we have lots more expansion planned for the coming years," the team reveals. Big Marble Farms also markets greenhouse products from roughly 25 Albertan growers spanning nearly 200 acres. The name was born out of the founders' desire to weave sustainability into the operations. Packaging provided a major opportunity for this.
"Anyone who has traveled to space has said that the Earth looks like a Big Marble. We love our planet and want to protect it," says Jonathan Schow, vice president of sales and marketing.
Big Marble Farms undertook this challenge by developing packaging with a lower environmental footprint. So in the sea of plastic packaging at grocery stores, Big Marble Farms' products stand out. For example, Big Marble Farms' hamburger pack used to package two beefsteak tomatoes is made of 100% recyclable paperboard, zero plastic and only printed with water-based inks. The same is true for the brand's "Simply Marbelous" cocktail trays, which are sold in an eight-count paperboard box.
Simply Marbelous snack pints and compostable bowls
Continuing down the paperboard trail, Big Marble Farms has implemented 100% recyclable paperboard packaging for its pint formats of grape, cherry and medley tomatoes. These snack pints also have a handle for easy transportation, making them even more convenient than the clamshell packaging typically used for small tomatoes.
Big Marble Farms' snacking tomatoes are also available in 1.5-lb compostable bowls which are both recyclable and backyard compostable. The topseal is composed of PET #1 and is 100% recyclable.
Fiber formed food trays for mini cucumbers
As a response to the plastic-dependent packaging of cucumbers, Big Marble Farms places its mini cucumbers in a recyclable fiber trays and wraps these in recyclable stretch films stickered with paper labels and water-based inks.
"Anything that we can convert into a sustainable package, we do. And if we haven't yet, we're working on it. From a packaging standpoint, the overarching theme is plastic reduction. We want to put produce onto the shelves with less plastic but without reducing the shelf life," Jonathan explains.
Key to Big Marble Farms' success with sustainable packaging has been its collaboration with Great Little Box Company, which develops prototypes for Big Marble Farms based on its specific requirements.