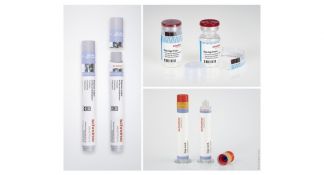 Press Packagingconnections
The special feature of the new RFID-Labels is a flexible electronics chip embedded in Schreiner MediPharm's functional labels. Unlike conventional silicon chips, the chips from PragmatIC's ConnectIC® family are extremely thin and flexible and can be embedded into a variety of substrates. This makes the solution particularly suitable for small containers with very small radius of curvatures such as vials and small syringes.
The use of label-integrated RFID technology enables secure identification, traceability and authentication of devices or pharmaceuticals according to the key-lock principle. "To date conventional RFID/NFC solutions have mainly been adopted in high-value use cases," explained," said Dr Thomas Schweizer, president of Schreiner MediPharm.
"Due to the cooperation with PragmatIC, we are now able to offer attractively priced, smart pharma labels for high-volume requirements and low-cost medicines. The labels are customized for application to the respective primary containers, packaging or devices to enhance ease of use and safety," he added.
"Schreiner MediPharm's label and industry expertise combined with our products is set to accelerate the deployment of RFID-based digital solutions in the healthcare sector," commented Scott White, CEO of PragmatIC. "We are really pleased to see adoption of our technology by leading global suppliers and look forward to working closely with them to develop new uses for these products."