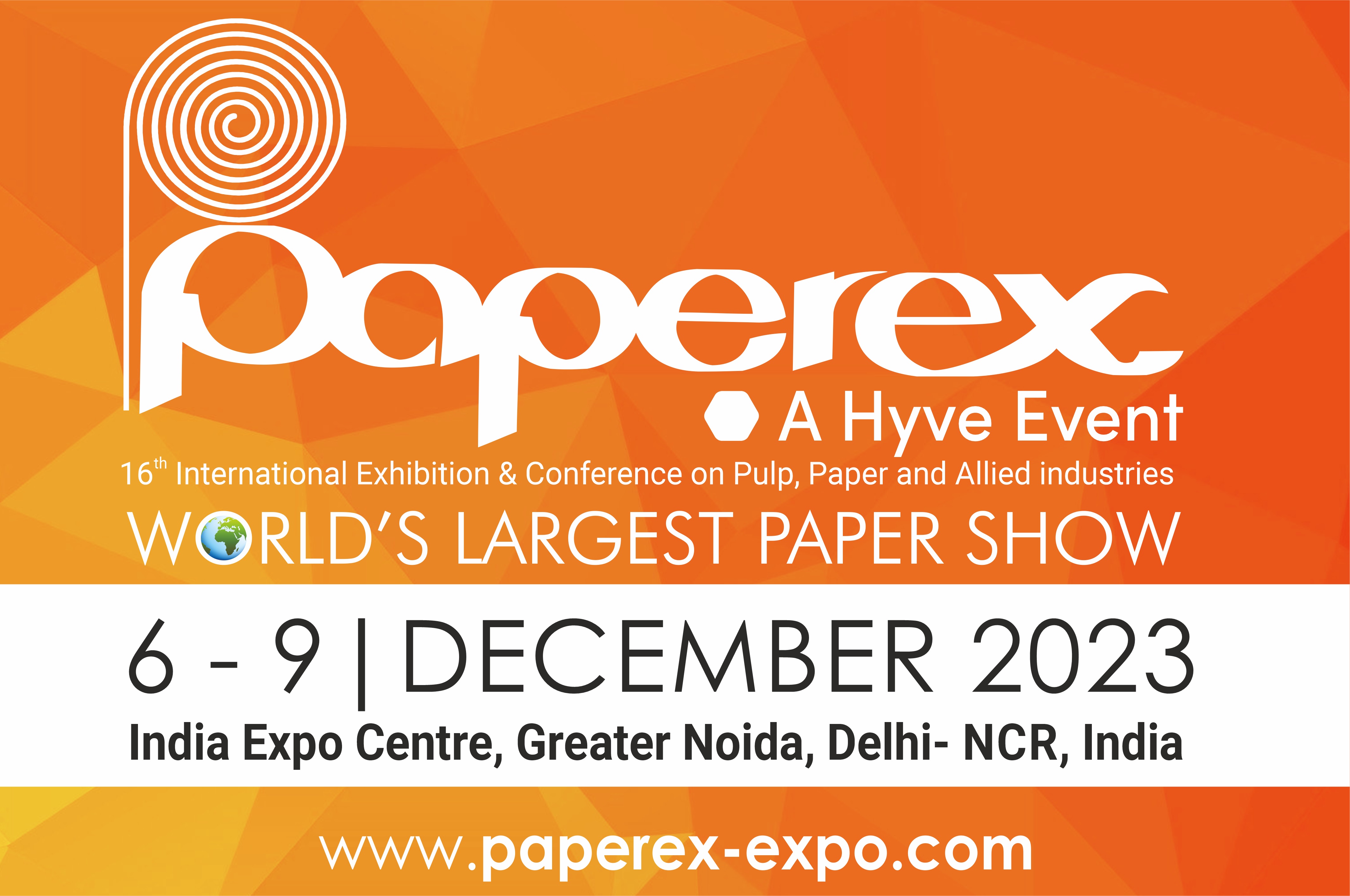 Press Packagingconnections
The 16th edition of Paperex, World's largest Paper Show, promises the presence of the biggest brands and companies from the paper Industry from all over the world. The latest technology in paper production along with some of the most innovative and eco-friendly products will also be on display at the show, scheduled from 6-9 Dec 2023 at India Expo centre, Delhi NCR, India. The paper sector has advanced rapidly during the period of planned development since independence. Now, India has 861 paper mills, 526 of which are operational, with a total installed capacity of 27.15 million tonnes, according to a recent industry research. Paper consumption in India is likely to witness 6 to 7 per cent annual growth and will reach 30 million tonnes by FY 2026-27, largely driven by emphasis on education and literacy coupled with growth in organised retail.
The per capita paper consumption in India at around 15 kg, is way behind the global average of 57 kg.
India is the fastest-growing market for paper globally and it presents an exciting scenario; paper consumption is poised for a big leap forward in sync with economic growth. The futuristic view is that growth in paper consumption would be in multiples of GDP and hence an increase in consumption by one kg per capita would lead to an increase in demand of 1 million tonnes.
To meet the increasing demand of paper and paper products, the paper industry needs new technology, advanced machinery, raw material etc. for Paper & Board Manufacturing. Paperex provides a unified business platform for all paper and allied industries for
•    Face to face interactions to explore the New Technology, Machinery & Equipment and raw material for Paper & Board manufacturing.
•    Exploring alternative suppliers 
•    New Import and export destination 
•    Supporting mass users of paper and allied industries including Paper Traders, Printers, Publishers, Converters and Paper Packaging Companies to explore the variety of papers at the show
Paperex 2023, World's Largest Paper Show, has received overwhelming response from industry and is all set to repeat the success story from 2022 with 700+ leading exhibitors from 20 countries and thousands of trade visitors from every corner of the world. 
Paperex will cater to the entire gamut of paper & allied industries at one business platform with co-located events as:
: - WORLD OF PAPER, highlighting participation of Paper, Printing, Packaging & Publishing industries 
: - TISSUEEX, highlighting participation of Tissue Products, Machinery & Technology 
: - CORRUGEX, highlighting participation of Corrugated Boxes, Machinery, Technology & Allied Industries
In addition, the event is planned with various concurrent business program and activities, including: 
: -Concurrent technical conference on "Paper Industry–Growth & Sustainability Through Green Technologies" by IARPMA
: -Open Seminars on "Paper Printing, Packaging and Converting." 
: -Networking meets of leading Trade Associations 
: -Various new launches and programs by exhibitors
At Paperex, the attendees will have the opportunity to explore the latest advancements in technology, machinery, equipment, transport & material handling and raw materials for paper and board manufacturing. The show attracts global buyers from paper & board manufacturers, paper traders, printers, publisher, converter and paper packaging companies, designers for corrugated box & related packaging, investors & promoters. Paperex is the finest platform for many overseas players planning to acquire or set up new plants in India. Many Indian paper mills are now eyeing 
new mills to setup or joint ventures with existing players abroad to widen their business horizons. For further information please visit https://india.paperex-expo.com or contact via Ph: +91 9311378553 or Email: paperex@hyve.group 
 
-
Greater Noida