Packaging of dry foods is a meticulous process. They need to be packaged in such a way to ensure long term storage and transport. Preservation of these processed food is aided by the removal of oxygen from the packaging, either by vacuum packaging or nitrogen flushing.
In this blog, we will talk about the process of nitrogen flushing and its relevance.
Nitrogen flushing is a form of Modified Atmosphere Packaging method.
As the name suggests, the process simply replaces the oxygen inside the package, usually a plastic or mylar bag, with nitrogen to lower the rate of spoilage of the contents.
The process can take place inside the container itself and at the various steps of packaging such as in the filling and capping processes.
Nitrogen flushing not only reduces oxidation but also prevents the growth of microorganisms and maintains the conformity of the package.
NITROGEN FLUSHING PROCESS
Nitrogen Flushing is a rather quick process and does not require much additional machinery. After adding the food product to the empty packages at the filling station using can filling machines, oxygen is forced out of the containers and replaced with nitrogen using adequate equipment. The package is then quickly sealed using a seaming machine.
The amount of nitrogen that needs to be added to a package depends on the food's shelf life, and the package and storage type.
Following are a few companies that specialize in machinery for gas flushing: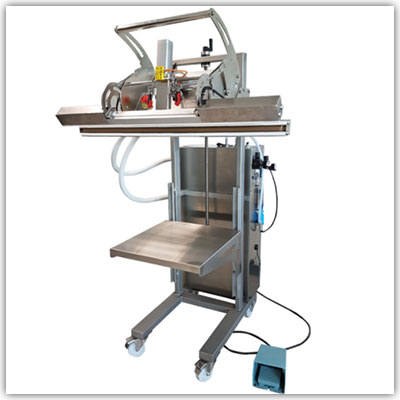 BERNHART: Bernhart's Vacuum Sealer With Gas Flush (MSB11MVI ID) records various sealing programs and has controlled temperature of the sealing bars to help to reduce wear. Ethernet connection is also available for data recording and restitution.
LEVAPACK
INNOVATIVE PACKTECH MACHINES