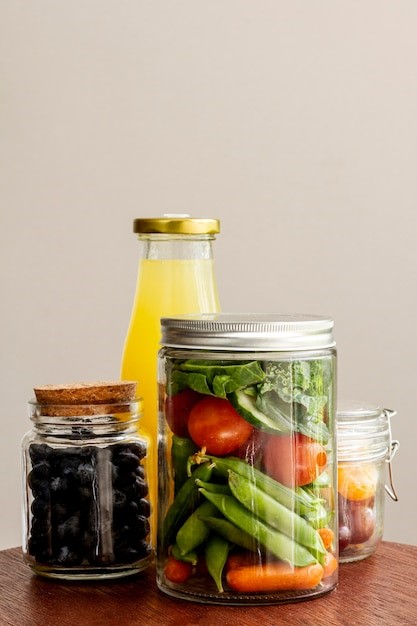 Packaged beverages are a mainstay of the fast-moving-consumers'-goods industry. They can offer a wide array of flavors and nutritional benefits in addition to simply quenching thirst. Ensuring that these beverages maintain their quality and safety over time is of utmost importance for both manufacturers and consumers.
Industrial beverage preservation techniques and the use of preservatives play a vital role in extending the shelf life and preserving the freshness of these products. In this blog, we will explore the various methods employed in the beverage industry for preservation and the common preservatives used to achieve these goals.
In addition to pasteurization, its variations and aseptic packaging, other methods of preservation can also be used to extend the shelf life and preserve the nutritional value of beverages.
1. Carbonation:
Carbonation, the process of dissolving carbon dioxide in beverages, is a preservation technique used for carbonated soft drinks and beers. The dissolved carbon dioxide acts as a natural preservative, creating an acidic environment that inhibits the growth of most microorganisms.
2. Drying
Drying is a traditional and effective method used to preserve various ingredients in the beverage industry. By removing the moisture from the ingredients, the growth of microorganisms, such as bacteria, yeasts, and molds, is hindered, thus extending the shelf life of the final product. There are different drying methods employed, each suitable for specific beverage ingredients.
Sun drying:  involves placing the beverage ingredients under direct sunlight to remove moisture gradually. This method is widely used for drying fruits and herbs used in teas and herbal infusions. However, it may not be suitable for all climates or ingredients, as it relies on consistent sunny weather.
Air Drying: Air drying relies on natural air circulation to remove moisture from the ingredients. It is commonly used for herbs, spices, and certain fruits. The process may take longer than other methods but helps retain the flavor and aroma of the ingredients.
Freeze Drying: Freeze drying is a more advanced technique that involves freezing the ingredients and then reducing the surrounding pressure to sublimate the ice directly into vapor, leaving behind freeze-dried ingredients. This method preserves the cellular structure of the ingredients, resulting in better flavor retention. It is commonly used for coffee, fruits, and other delicate ingredients.
Spray Drying: Spray drying is commonly used for beverage powders like instant coffee and milk powder. The ingredients are transformed into a fine mist and introduced into a hot air stream, rapidly evaporating the moisture and leaving behind dry particles.
3. Fermentation:

Fermentation is a natural preservation technique that has been used for centuries to create various alcoholic and non-alcoholic beverages. During fermentation, microorganisms, such as yeast and bacteria, convert sugars and starches in the beverage ingredients into alcohol, acids, or gases, creating an environment that inhibits the growth of harmful microorganisms. This process not only preserves the beverage but also imparts unique flavors and characteristics. Beer, wine, kombucha and kefir are all fermented beverages.
It is essential to control the fermentation conditions, as improper fermentation can lead to spoilage or undesirable flavors. With the right balance of ingredients and fermentation conditions, beverages can undergo a natural preservation process that enhances their overall quality and appeal.
Common Beverage Preservatives:
Preservatives are chemical compounds added to beverages to prevent microbial growth and spoilage, enhancing their shelf life. They can either be natural or synthetic. While some consumers may express concerns about their usage, regulatory bodies ensure that approved preservatives are safe when used within recommended limits. Here are some common beverage preservatives:
1. Benzoates: Sodium benzoate and potassium benzoate are effective against yeasts, molds, and bacteria, commonly used in fruit juices, carbonated beverages, and flavored water.
2. Sorbates: Potassium sorbate is a preservative effective against yeasts and molds, often used in fruit juices, wines, and some soft drinks.
3. Sulfites: Sulfur dioxide and sulfite compounds inhibit the growth of yeasts and bacteria, making them valuable for preserving wines, fruit juices, and ciders.
4. Ascorbic Acid (Vitamin C): Besides its nutritional benefits, ascorbic acid acts as an antioxidant and helps preserve the color and flavor of fruit juices and other beverages.
5. Citric Acid: Derived from citrus fruits, it helps maintain acidity and prevents microbial growth.
6. Rosemary Extract: Contains natural antioxidants that help prevent spoilage and maintain freshness.
7. Grape Seed Extract: Rich in polyphenols, it acts as an effective antioxidant and antimicrobial agent.
8. Green Tea Extract: Contains catechins, which have antimicrobial properties.
9. Cranberry Extract: Contains natural compounds that inhibit bacterial growth.
Industrial beverage preservation techniques and preservatives play a crucial role in ensuring that consumers can enjoy safe and high-quality beverages. Each method has its advantages, allowing manufacturers to choose the most suitable technique based on the specific product and desired shelf life. While preservatives are essential for extending the longevity of certain beverages, regulatory bodies carefully assess their safety to ensure they are used responsibly. By striking a balance between preservation and consumer health, the beverage industry can continue to deliver a wide range of refreshing and nourishing products to consumers around the world.