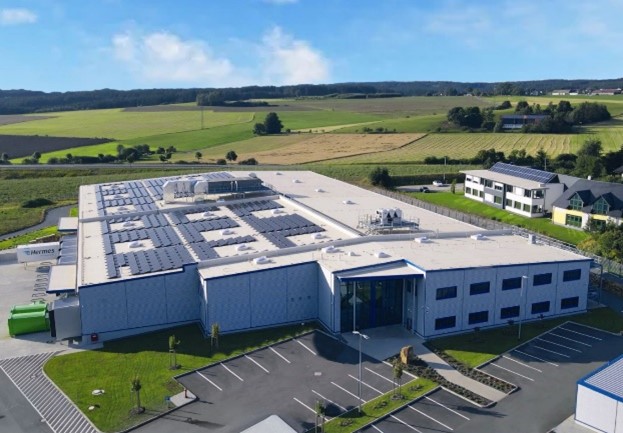 Press Packagingconnections
online pharmaceutical company prepares 28 thousand packages per day for shipping, with 85% of the process automated
CONCORD TOWNSHIP, Ohio – April 25, 2023 – Ranpak Holdings Corp. ("Ranpak") (NYSE: PACK), a global leader of environmentally sustainable, paper-based packaging solutions for e-commerce and industrial supply chains, today announced that Medikamente-per-Klick, an online provider of pharmaceutical products based in Selbitz, Germany, has achieved an outstanding level of automation in its packing operation through its partnership with Ranpak with the installation of two packaging automation lines from Ranpak, each line consisting of a Form'it!™ case erector and a Cut'it!™ EVO automated in-line packing machine. Ranpak worked with the company to automate the pick/pack process as well. The German mail-order pharmacy Medikamente-per-Klick was founded in 2004 by pharmacist Karlheinz Ilius, who is also the owner of a total of three pharmacies, with the aim of always offering to his customers the best service and expert advice on medicines. Medikamente-per-Klick employs more than 170 people across its warehouse operations.
Medikamente-per-Klick's Ranpak Automation end-of-line (EOL) solutions in each facility include:
The Form'it!™ range offers semi-automatic equipment, enabling automation at low cost. It suits a wide range of packaging dimensions. Machines are available in 3 frames (1000, 2000, 3000), in 2 types of sealing (Hotmelt and Tape), with single or multiple magazines (up to 4), that can also handle different carton footprints. The machines can be supplied with self-adhesive tape, gummed tape or hot melt gluing.
The Cut'it!™ EVO automated in-line packing machine reduces voids in parcels before shipping, cutting down on shipping costs. It automatically shortens cartons to match their highest point of filling, and then glues a lid securely in place.
Prior to learning about EOL automation solutions from Ranpak, Medikamente-per-Klick was planning to integrate plastic tape sealing machines. Heinz adds, "But we quickly figured out that the height reduction offered by Cut'it! EVO made more sense. We have only one carton size in use, and without the height reduction capability, we were shipping a lot of air and using plastic air pillows as void fill, which we no longer need to do. We are also pleased with the 99% uptime we get from the Ranpak equipment, and the responsive service we receive from the company. It's made a huge difference in our operations."
Heinz notes that in December 2022, a typical production month, 99% of the boxes had their height reduced, with an average height reduction of 136 mm and with 99.4% equipment uptime.
To schedule a personal briefing during LogiMAT 2023, where Ranpak will be exhibiting, please contact Monika.d@duomedia.com.
For more information about Ranpak, please visit: www.ranpak.com.
About Medikamente-per-Klick
Karlheinz Ilius is the owner of three pharmacies and of the German mail order pharmacy medikamente-per-klick.de. Medikamente-per-klick.de started in 2004 with the aim of offering the best service and advice on medicine. The company quickly became successful and is now one of the leading German online pharmacies.
The boss still helps out and supports the around 170 employees who have made it one of the largest and most successful pharmacies in Europe. The warehouse and facility have grown immensely to satisfy the high demand. Customer requests are handled individually and personally.
Medikamente-per-klick.de offers a variety of medicines for all ages through various ordering options. Orders can be made through the web shop, the order hotline, or by post. Medikamente-per-klick.de has won several awards, including the nationwide Manager Prize IBE 2016.
About Ranpak
Founded in 1972, Ranpak's goal was to create the first environmentally responsible system to protect products during shipment. Ranpak's mission is to deliver sustainable packaging solutions that help improve supply chain performance and costs, reduce environmental impact, and support a variety of growing business needs globally. The development and improvement of materials, systems and total solution concepts have earned Ranpak a reputation as an innovative leader in e-commerce and industrial supply chain solutions. Ranpak is headquartered in Concord Township, Ohio and has approximately 600 employees. Additional information about Ranpak can be found on its website: https://www.ranpak.com.
RANPACK
Monika Dürr
PR Consultant Duomedia
monika.d@duomedia.com
+49(0)6104 944895