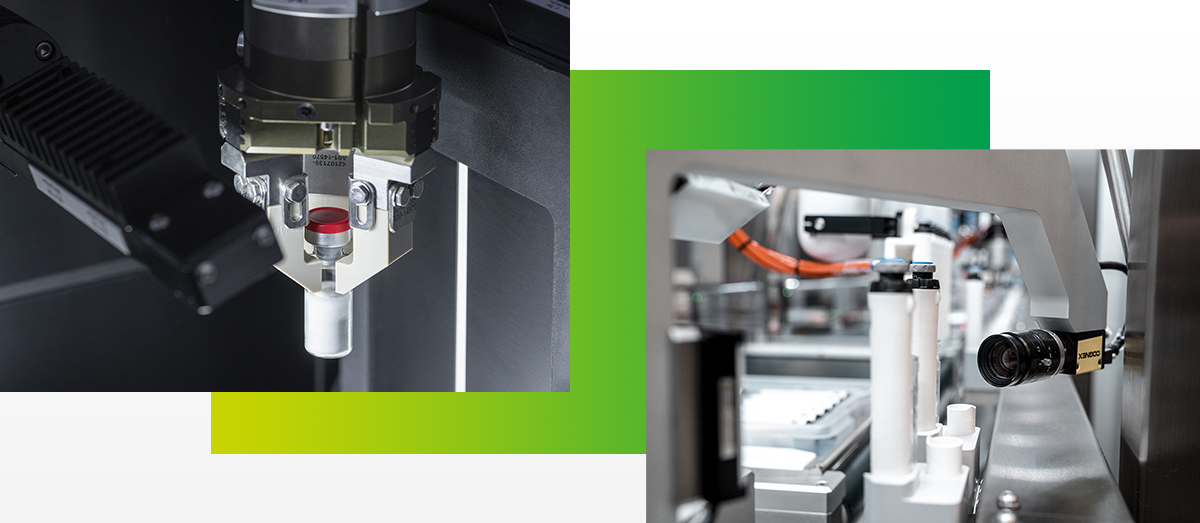 Press Packagingconnections
Company's solutions offer streamlined management of complex projects, enabling pharmaceutical companies to rely on a single partner from visual inspection to palletizing. At the show, Stevanato Group also will focus on its recently enhanced after-sales services for the US market.
Piombino Dese (PD), Italy, September 9, 2021 – Stevanato Group, a leading global provider of drug containment, drug delivery, and diagnostic solutions to the pharmaceutical, biotechnology and life sciences industries, will showcase its various manufacturing and service solutions at INTERPHEX NYC, Booth #2477, October 19-21, 2021.  Among other highlights, the company will provide live demonstrations of its AI-ready Vision Robot Unit (VRU) inspection system, a reliable, autonomous module capable of automatically inspecting both cosmetic and particle properties without human intervention.
Exemplifying Stevanato Group's next-generation inspection capabilities, the VRU is a robotic, human-like inspection unit combining flexibility with automation efficiency. Designed to meet emerging "smart factory" needs for a fully automated, flexible inspection solution that enhances control process reliability, the VRU is ideal for a broad array of applications in the pharma development and manufacturing landscape, including biotech products such as monoclonal antibodies (mAbs), vaccines and lyophilized drugs.
Also at INTERPHEX NYC, Stevanato Group will provide insight into its modular, scalable, flexible assembly solutions. As more customized medicines are delivered via a broader array of delivery devices, a premium is being placed on equipment versatility and modularity to adapt to wide-ranging production scenarios.
Here, injectables are a prime example. Although many injector types have similar components, designs vary significantly in terms of size, material, and shape. This is a major production challenge, both for pharmaceutical companies and contract manufacturing organizations that cater to pharma customers around the world. Stevanato Group's modular, "building block" approach streamlines production, ensuring flexibility and smooth production ramp-up.
Finally, at INTERPHEX NYC a member of Stevanato Group's expanded after-sales service team will be on hand to discuss the global program's latest enhancements. Effective this year, companies purchasing Stevanato Group glass converting, visual inspection, assembly and packaging equipment have a dedicated team and a single point of contact. Committed to delivering a more customized experience for optimal machine maintenance, performance and utilization, the after-sales department relies on a network of some 60 professionals across the Americas, Europe and Asia-Pacific.
"We're excited to finally have the chance to reconnect face-to-face with our pharma industry customers and colleagues at one of America's premier pharma events," said Alessandro Zannini, Engineering Sales Director at Stevanato Group. "To meet the evolving needs of modern pharma companies, advanced technologies must be complemented by functional production versatility and by dedicated staff who can take care of the full product life cycle. We look forward to showcasing our various solutions to these challenges at INTERPHEX NYC."
About Stevanato Group
Founded in 1949, Stevanato Group is a leading global provider of drug containment, drug delivery and diagnostic solutions to the pharmaceutical, biotechnology and life sciences industries. The Group delivers an integrated, end-to-end portfolio of products, processes and services that address customer needs across the entire drug life cycle at each of the development, clinical and commercial stages. Stevanato Group's core capabilities in scientific research and development, its commitment to technical innovation and its engineering excellence are central to its ability to offer value added solutions to clients. For more information, please visit www.stevanatogroup.com.
Stevanato Group
Stevanato Group
Executive Director of Public Relations & Communications
cdale@turchette.com
973.227.8080 x116