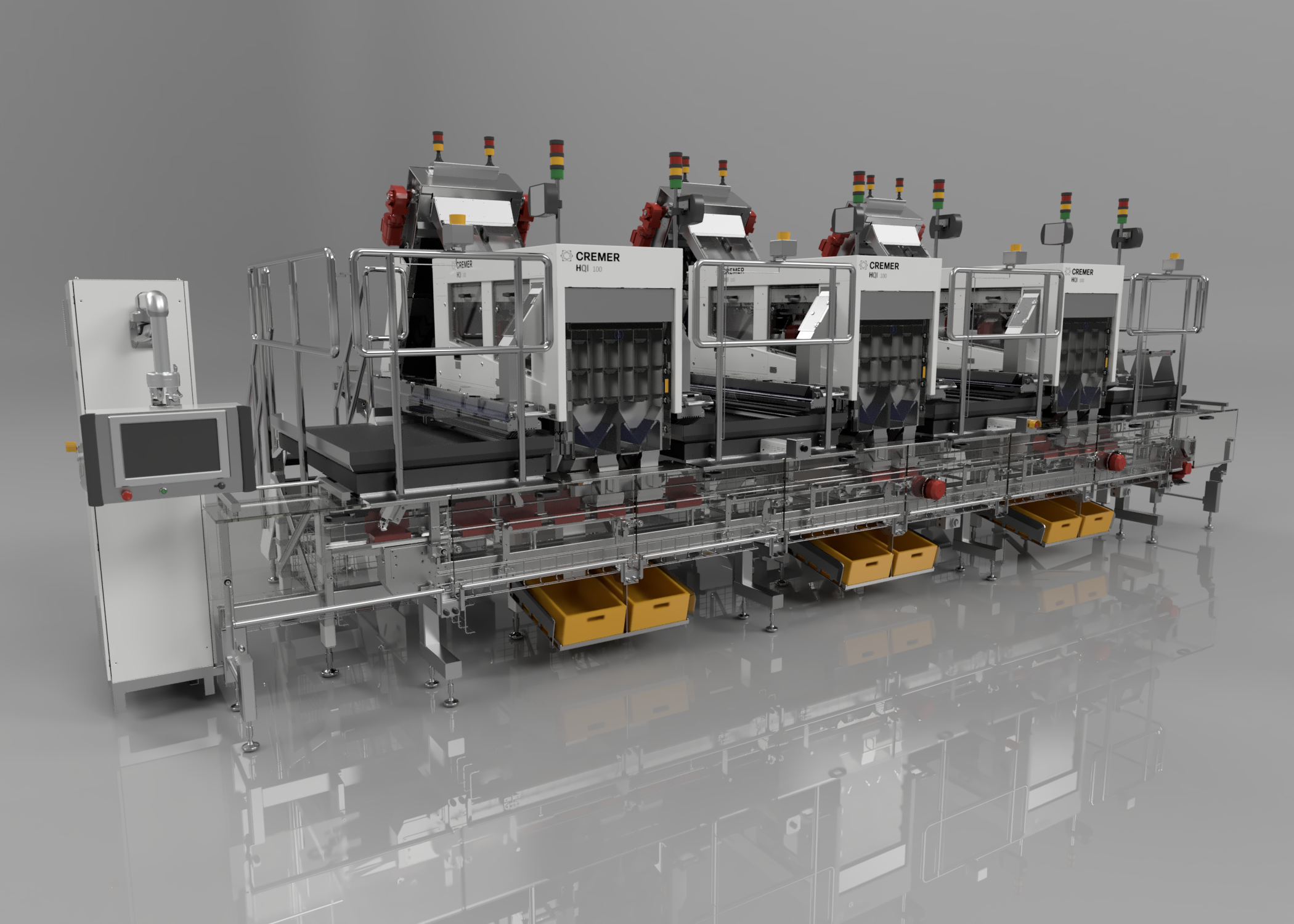 Press Packagingconnections
Ideal for candy, confectionary, chocolate or non-food product assortments, company's new HQ 3100*2 counting and dispensing solution offers same features of its HQ 6100 model, with option for added divider to handle increased flavor varieties. 
Lisse, Netherlands – Cremer, a leading global supplier of product counting machines for a wide array of applications, has introduced its HQ 3100*2 Counting & Packaging Machine, designed for producing multi-flavor and variety pack assortments of candies, confectionaries, and chocolates – as well as non-food products such as medical parts, hardware and detergent pouches. The two-in-one, servo-driven model is an advanced configuration of the company's popular HQ 6100 counting machine; this latest version features an option for an added divider, allowing for counting and dispensing of increased flavor varieties.
Utilizing a 2-in-1 frame, the new HQ 3100*2 counting and dispensing machine features six channels, each of which can be divided in half. This means the machine can process up to two flavors or varieties – double the amount possible with the original HQ 6100. This capability offers manufacturers flexibility in utilizing the machine for a wide range of mixed products without having to purchase an additional counting machine, allowing for considerable cost savings and preserving valuable production floor space. The HQ 3100*2 is best suited for lower capacity in PPM (products per minute) applications where multi-flavor or variety mixes are needed.
Designed for versatility, the HQ 3100*2 counting machine can be used for a wide variety of products – either in bulk quantities or single piece discharge into any package. The unit is scalable for varying production levels depending on product output and type. 
Counting food and various other products by the piece is regarded as the most efficient, cost-effective alternative to modern weighing and pick-and-place systems, as counting accuracy is not affected by small weight variations between individual pieces. Optical counting – as opposed to weight-centric quality control – guarantees that the net contents in terms of count is 100 percent accurate for both wholesale and retail packages. Optical counting also prevents product loss, avoids product wastage, and maximizes production efficiency.
The HQ 3100*2 works in tandem with a bulk dosing system with infeed hopper and incline dosing conveyor. To preserve precious production floorspace, the counting machines can be placed directly atop a cartoner, case packer or bagging system, or can dispense product direct in boxes, tubs, tins, or erected cartons. 
Compatible with all industrial packaging and cartoning machines, the HQ 3100*2 features a compact footprint, FDA-compliant product parts for processing both food and non-food products and streamlined tool-free disassembly for easy operation and cleaning. Other features include silent operation with no compressed air required and a product detection unit with 100 percent accuracy. Up to three memory flap levels are available for count separation and dispensing. Vibratory plates for product transport and separation and a timing hopper for discharging product counts are also built in.
"Cremer's HQ 3100*2 counting machine is a versatile, reliable and cost-effective solution developed specifically for maximizing the production of multi-flavor assortments," states Brian Pomponio, Business Development Manager of Cremer North America. "Giving manufacturers the ability to easily add more channels and, in turn, handle more flavors without the considerable expense of a new machine is significant benefit, and one we're thrilled to now offer."
About Cremer
Since 1949, Cremer is the leading global supplier of counting machines and packaging solutions for the pharmaceutical, food, consumer goods and agricultural industries. As part of the Uhlmann Group, the Netherlands-based company is known worldwide for its dedicated focus on quality control. 
Cremer's highly technical and innovative machinery provides unsurpassed speed and precision, ensuring companies can count and package their products in a guaranteed accurate, fast, and profitable way. Cremer's commitment to customized equipment solutions has led to a customer base ranging from small family-operated businesses to multinational corporations. For more information, visit www.cremer.com.
 
Cremer
Caitlin Bishop
cbishop@turchette.com
09732278080