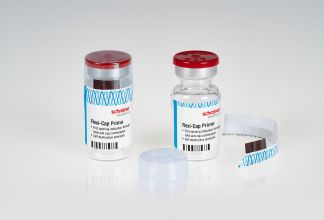 Cap-Lock is a specially constructed plastic cap adapter that is placed on top of the primary closure of the syringe to equalize the diameter differences of the syringe body and closure. Subsequently, a label with an integrated perforation for tamper evidence is applied that wraps around the syringe body and the bottom part of the cap adapter.
When a user opens the syringe cap the label is partially destroyed, thus clearly and irreversibly indicating that the cap has been opened. This enables the user to tell if the medicine has been tampered with, protecting patients from potentially counterfeit substances.
It can be applied to the syringe in the conventional production process. Compared to shrink-wrap solutions, no heat is applied so the solution is also suitable for sensitive substances. The label can be provided with additional functionalities such as counterfeit-proof features, detachable documentation labels or light protection. Both the label and adapter can be customized. No additional waste is generated because both elements are firmly connected to each other. This solution is adaptable to many commonly used syringe sizes, says the company.
In another development the company will introduce the latest version of its Flexi-Cap range during CPhl Worldwide 2019 in Frankfurt next month. The Flexi-Cap Prime is a label-cap combination that protects the integrity of original containers and helps to prevent their illegal reuse by means of clear, irreversible first-opening indication.
The special feature of Flexi-Cap Prime is its complex construction with the tear strip running through both the film cap and the label. When the tear strip is opened at the starter tab, it simultaneously destroys the cap and the label so that undetected reuse of the container is no longer possible.
It can easily be integrated into the pharmaceutical manufacturer's production processes, says the company. It is also applied without heat, and can be flexibly adapted to many container types, shapes and sizes while the label's design and the pharma manufacturer's brand appearance remain unchanged. The integration of additional features, such as counterfeiting protection elements, offers further opportunities for securing the supply chain, according to Schreiner MediPharm.