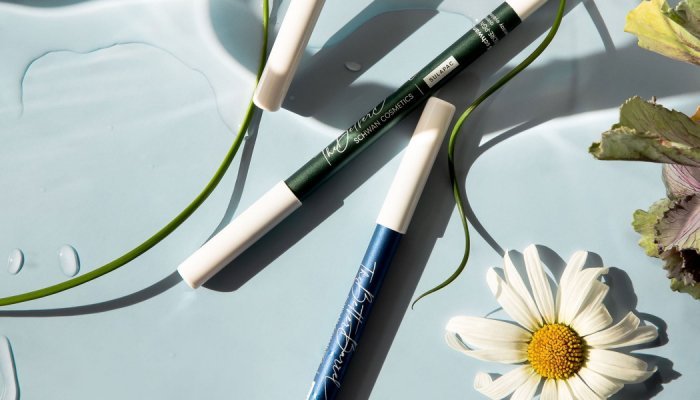 Grania Jain
The pandemic brought up climate change and environment to historical levels among the Gen Z and millennial list of concerns. According to the "Deloitte Millennial Survey 2020", protecting the Earth clearly appears as the top priority for these generations, which were surveyed in 13 countries around the world. And most of them said they intend to continue changing their daily, personal routines with an eye toward improving the planet. For instance, two-thirds (64%) said they are cutting back on single-use plastic and recycling more.
It is in this context that Schwan Cosmetics and Sulapac have combined their skills to create lip liner and eyeliner pencils with a sustainable barrel material, capable of containing the volatile ingredients that are key components of these products.
Sawdust from industrial side streams
So far, the main challenge of using bio-based materials in cosmetic pencils is that most natural materials are not capable of maintaining the suitable freshness of the makeup inside the pencil. This is the reason why most makeup pencils today are encased in virgin plastic.
While various sustainable materials have been implemented in beauty packaging in recent years, this is the first time that Sulapac's plastic alternative material is being used in color cosmetic pencils. The airtight pencil barrel that holds the sensitive ingredients is made from Sulapac Flow v1.8 biomaterial, derived from sawdust from industrial side streams and plant-based binders.
The design principle of Sulapac is to mimic nature. Similar to a piece of wood on the forest floor, the Finish company's materials can be digested by naturally occurring microorganisms and they break down into carbon dioxide, water, and biomass, leaving no traces behind.
"This is a breakthrough for us because we were able to invent a better material to encase our pencils. This replaces virgin plastic with a material that leaves no permanent microplastics on the planet! And, we don't have to make any compromises on the quality or performance of our long-lasting, high-pigment shades. This line is suited to come in an endless variety of textures and colors, and the barrel material has to be top-notch to preserve their integrity. Through our collaboration with Sulapac, we aren't just creating an innovative product for our clients, we're also investing in a more sustainable future for the cosmetics industry," says Dr. Alexander Doll, Head of Research and Development at Schwan Cosmetics.