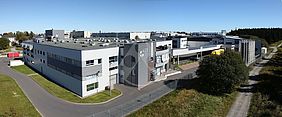 Since the company's founding, the number of employees has more than quadrupled
Neuhaus am Rennweg – Röchling-HPT of Neuhaus am Rennweg, Germany, is celebrating its 15th birthday. As the producer of primary packaging for the pharmaceutical and diagnostics industries reaches this milestone, the signs point to continued growth: In the run-up to 2023, the site will be gradually expanded and 50 new jobs created.
With this, the company will continue to drive forward the type of positive development seen since its founding in 2002: Starting with 70 employees and an annual turnover of €10m, Röchling-HPT now achieves an annual turnover of over €40m with around 300 employees. In this time, the company has made a name for itself as a specialist in the manufacture of primary packaging systems for the pharmaceutical and diagnostics industries. The product range comprises bottles, canisters, jars, closures, administration devices and assembly parts made from plastics – such as PE-HD, PE-LD and polypropylene – for direct contact with both liquid medicines and tablets. These products find applications in pharmaceutics, diagnostics and life sciences.
Managing Director Karl-Heinz Sladek is proud of developments: "We manufacture tailor-made packaging according to our customers' needs and have also developed high-quality solutions for numerous applications as part of our standard product range. In conjunction with our service, our products offer our customers maximum pharmaceutical hygiene, reliability and safety of application."
Growth
In the past year, Röchling has laid the foundations for further growth: In 2016, a further expansion of the site got underway. In the run-up to 2023, production capacity will be expanded and around 50 new jobs created. The Röchling Group, to which Röchling-HPT has belonged since 2015, is investing €35m in the Röchling-HPT site, significantly strengthening the company's market position. Karl-Heinz Sladek says: "Our company has grown steadily in the past few years. With this expansion, we will become a strategic partner for comprehensive packaging systems. We already provide our customers with a huge range of primary packaging. With this expansion, we will be able to offer them a complete system, from bottles, to closures, to administration devices."
For Sladek, a significant factor in the successes and growth of the first 15 years has been the company's staff: "With their specialist knowledge and tremendous commitment, our employees are the bedrock of the company's success. Every employee can be proud to have been part of getting the company to where it is today."
Key component
For the Röchling Group, investment in the site in Neuhaus am Rennweg is an important component of the strategy of further expansion of its Medical Division. With the three companies Röchling-HPT, Röchling Oertl Kunststofftechnik (Brensbach, Germany) and Röchling Advent Tool & Mold (Rochester, NY, USA), Röchling's Medical Division offers a comprehensive range of products and services, such as injection components and primary packaging, which meet the highest requirements of pharmaceutical hygiene, reliability and safety of application. These products find applications in devices and instruments used in surgery, pharmaceutics, diagnostics and dialysis. Röchling intends to greatly expand its Medical Division not just by organisational growth but through targeted acquisitions.