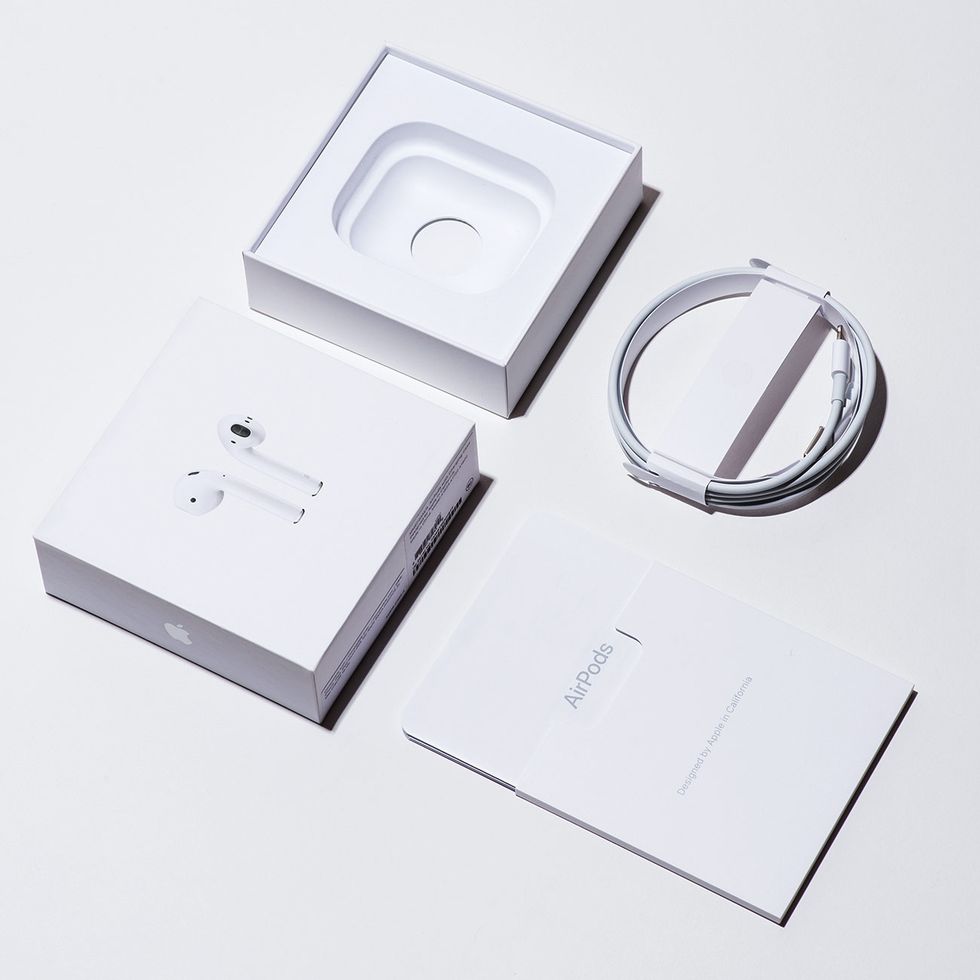 Press Packagingconnections
Rise Above
The photograph of the AirPods on the box lid is embossed, which is a technique that (we believe) Apple first introduced on the iPhone 6 's packaging as a ghosted outline of that product. On the AirPods' packaging, it's hardly noticeable until one runs their hand across the otherwise unobstructed white surface. Apple has raised the surface just the right amount, to give it a characteristic that puts the product forward. You can tell what it is by touch alone.
Premium Stock
The unboxing experience starts with the outer shrink-wrap barrier, which is placed so that the clear plastic seam wraps perfectly around the center of the box. For maximum satisfaction when excavating your new AirPods (or any Apple product), run a knife or razor blade along the four gaps where the lid and bottom of the box meet, then peel away the wrap piece by perfect piece. Underneath the plastic, you'll find Apple doesn't skimp on the sustainable box stock, either, on which, it appears, the brand has switched to a new satin finish. The custom typeface is Apple 's newest, San Francisco, and is foil stamped in silver.
Never Loses (Perfect) Suction
Ever notice that the lids and bottoms of many product packages don't separate easily and need a shake or tug to open? That 's largely due to a small vacuum inside the box. Apple studies this vacuum and, rumor has it, has precisely timed how long it takes for the bottom half of the packaging to ease out and separate under its own weight when the box is held by the lid. This performs double duty: it both builds anticipation and prevents a product from falling out abruptly. If you drop your gadget later, that's on you. But while you're with the packaging, Apple still wants complete control of the experience.
Bare Essentials
Apple doubles down on the minimalist aesthetic inside. No twist ties (paper fastener instead), no more shrink wrap, no tape. Only the necessities, all formed and textured beautifully.
Intentional Order
With Apple, there are no coincidences. The contents within the packaging are presented in a logical fashion: you have to unpackage everything in a sequence that builds anticipation as you go. Flip back Apple 's requisite "Designed by Apple in California" lid, which contains the manual, to finally reveal the AirPods. They're held by a molded cradle made of sustainably harvested bamboo fiber and bagasse, a byproduct of sugarcane manufacturing. To complete the experience, resting underneath the AirPods is their Lightning cable, not that you'll need them right away — Apple knows you want your device to ship fully charged.