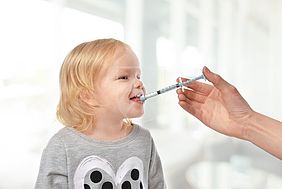 Sympfiny® consists of a container for storage and an accurately fitting oral syringe for the drawing and administration of the multi-particulate drug. The oral syringe will be connected to the container and the drug is then precisely dosed, drawn and administered. A plastic part sets the dosage in a safely and transparent way. This easy handling allows to administer the multi-particulate drugs as intuitively and safely as liquid drugs. With the oral syringe, the users can rely on a trusted and proven system that is standard with liquid drugs.
Safe and intuitive application
The development also attached great importance to a safe application: Sympfiny's® design prevents the spilling of the beads both before and after disconnecting the oral syringe from the container. At the same time the system offers protection against moisture and dirt. The drug will also be protected against moisture through the use of drying agents. The dosing starts after a noticeable snapping of the oral syringe and will be automatically stopped once the syringe is removed. After the application the oral syringe can be easily cleaned and re-used. The focus was on a safe and intuitive design. The dosage can be pre-set by the doctor, the pharmacist as well as the parents and ensures that the specified dosage is maintained even in case of multiple uses.
Smart pack series
The child-resistant closure for the smart pack series from Röchling was used as a protection from the outside, which by default is senior-friendly as well.
This simple and safe handling of Sympfiny® is also reflected in its name: Sympfiny® consists of the terms "simple" and "symphony".
Customers' needs recognised
In order to be able to consider the high requirements of the customers, Sympfiny® is available in different container sizes. At the request of the customer, the size of oral syringes can also be customised. Fixed customer-specific dosages are possible too.
Production inside the clean room
For the production, the Medical Division of the Röchling Group in Mannheim has closely worked together with HS Design across locations and contributed extensive development and process know-how. The container is produced at Röchling in Neuhaus am Rennweg, Germany, inside a clean room. The oral syringe and the closure are produced and completely fitted at Röchling in Brensbach, Germany, inside a clean room.
Sympfiny® wins Innovation Prize
At the 2017 BIOMEDevice Conference Trade Fair in Boston, HS Design has introduced Sympfiny® for the first time to industry professionals and Sympfiny® was awarded the Innovation Prize here.