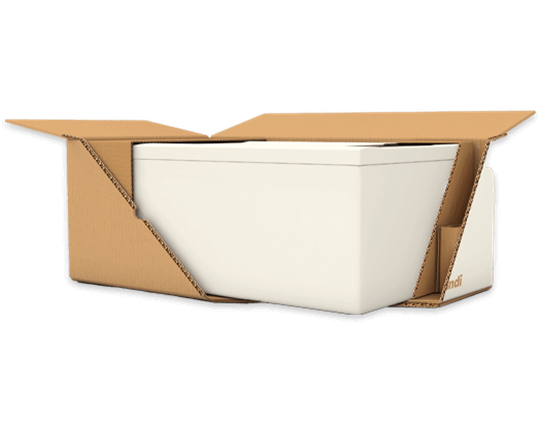 Mondi's customised Monocorr Box makes white goods packaging 100% recyclable in Turkey
Corrugated inserts eliminate the use of difficult-to-recycle expanded polystyrene (EPS) foam inserts and take up 94% less space
Compact Monocorr Boxes allow 20% more goods to be stacked on each pallet
The fit-for-purpose packaging design supports Warmhaus's sustainability goals and keeps their customers happy
Warmhaus was looking for an environmentally responsible packaging solution that would help to meet their own sustainability goals as well as the requirements of domestic and export customers. Monocorr Box is easily recyclable in Turkey and supports Warmhaus's exports to the European Union, where some retailers are beginning to switch to EPS-free packaging, even for larger durables. Producers may also have to consider Extended Producer Responsibility (EPR) fees for EPS material in the future.
"We were looking for a solution that overcomes the challenges we face with rigid foam products. We are committed to energy saving and protecting the environment, and we want our product packaging to reflect the same standards. In addition to its sustainability advantages, corrugated cardboard packaging can also improve the protection of products, transporting and storing them safely and cost-efficiently. We've been using Monocorr Boxes since last August and have received positive feedback from our customers," said Fatih Aydın, Purchasing Unit Leader at Warmhaus. 
In addition to being fully recyclable, the Monocorr Box has benefits in terms of logistics and shipping. The boxes are delivered flat and the corrugated inserts take up 94% less space during transport and storage than the previous EPS foam inserts. Assembled Monocorr Boxes are more compact than the previous packaging and the size of the outer box has been reduced by 6%, which allows Warmhaus to stack 20% more items on each shipping pallet.