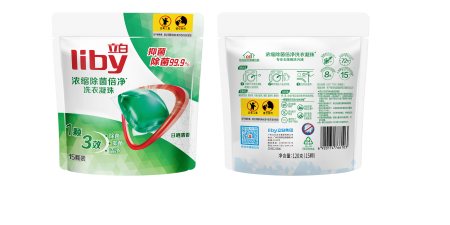 The joint effort between Dow, Liby and Fujian Kaida enabled Liby to produce its fully recyclable laundry packaging for the laundry pods. Dow's INNATE™ TF-BOPE was selected due to its all-polyethylene (PE) structure that allows the end-product to be recycled in existing recycle streams, strong material properties offering high toughness in order to reduce leakage during e-commerce transportation, as well as excellent optics for stand-up shelf appeal and touch and feel. Leading packaging manufacturer, Fujian Kaida, will be designing and producing the packaging for these Liby's laundry pods.
"We are delighted to partner with Liby to pioneer fully recyclable laundry packaging in China. The country's recent acceleration in achieving a green and sustainable environment has changed the way it tackles plastic waste, and this collaboration is a significant step in improving the recyclability and sustainability quotient in the packaging of laundry products for millions of households," said Bambang Candra, Asia Pacific commercial vice president of Dow Packaging and Specialty Plastics. "Through our advanced research and development capabilities, we strive to help brand owners like Liby take action and deliver on their sustainability commitments to close the loop for a circular economy, a greener planet and a better future."
Zhang Liping, General manager of Liby Research and Development Center said, "As a leading laundry brand in China, Liby won consumers' trust with high quality cleaning products and our belief in natural ingredients. Most of the laundry packaging in the market these days are non-recyclable, and as a brand, we feel responsible for reducing and eliminating plastic waste in our products. We are proud to embark on this journey with Dow through the fully recyclable INNATE™ TF-BOPE, minimizing the environmental impact of our packaging. This is especially timely with the government's push towards a circular economy with Guangdong National Development and Reform Commission recent announcement of the new rules on limitations and ban on using plastic products."
"We are thrilled to be supporting the introduction of China's first fully recyclable laundry packaging alongside Dow and Liby. Dow's INNATE™ TF-BOPE and film from Decro provided us with a unique design solution to create these fully recyclable packaging for Liby. At Kaida, environmental protection and manufacturing ecological products are a priority, and this opportunity illustrates the importance of collaboration and collective action in transforming how packaging is managed at its end of life," commented Guo Tao, General manager, Fujian Kaida.
Earlier in July this year, Dow announced its innovative and revolutionary brand extension, TF Polyethylene Resins for Tenter Frame Biaxial Orientation (TF-BOPE) films, to its family of INNATE™ Precision Packaging Resins. INNATE™ TF-BOPE aims to address the global industry's need for a high-performing, convenient and recyclable packaging material. Additionally, INNATE™ TF has been recognized as a 'design for recyclability' solution, enabling more plastic packaging to be recycled by allowing brands to design for recyclability right from the start.
As part of its 2025 Sustainability Goals, Dow is committed to collaborating with key stakeholders across the value chain to promote innovative and sustainable packaging solutions, driving the healthy and dynamic development of the plastics industry. INNATE™ TF-BOPE resins provide converters, brand owners and retailers with an innovative packaging solution that can achieve desired properties while being completely recyclable. This is possible because of the resins' unique molecular architecture that demonstrates outstanding physical properties as compared to traditional polyethylene products. Additional information about INNATE™ TF Polyethylene Resins for Tenter Frame Biaxial Orientation and current success stories are available at www.dow.com/InnateTF.